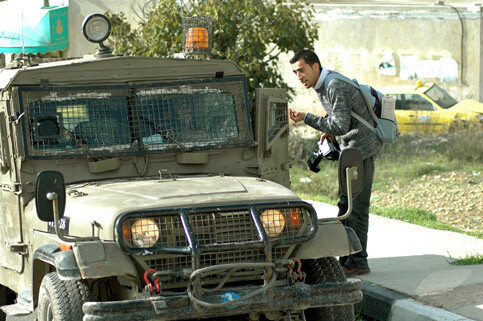 Fadi Arouri found himself arguing with Israeli soldiers during an earlier incursion.
Ma'an news agency photojournalist, Fadi Arouri, has been shot in the flank by Israeli military forces during an Israeli invasion of Ramallah. Fadi was photographing the incursion for Ma'an news.
Two Palestinians were killed [editor's note: later reports indicated four Palestinians were killed] during the incursion. Ma'an's correspondent reports that one of those killed has been identified as Yousif Abdul-Qadir, 23, while the other remains anonymous.
Israeli military vehicles invaded the central West Bank city of Ramallah shooting heavily. Confrontations broke out between the invading military and Palestinian fighters, resulting in the injury of 20 Palestinians.
Israeli bulldozers destroyed cars and street-level shops, so as clear a path for large military vehicles, while young Palestinian men threw stones at the invading forces.
Palestinian sources have stated that an Israeli special forces unit had earlier entered the city and besieged a building.
Related Links