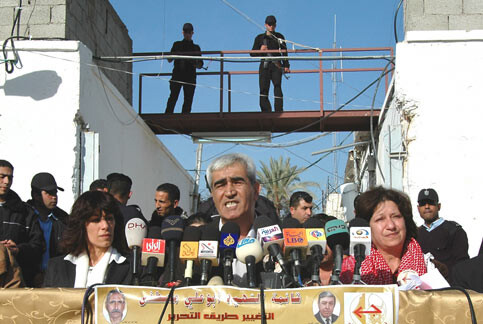 In another escalation in violence, Israeli Occupation Forces (
IOF
) stormed Jericho Prison on Tuesday morning, 14 March 2006, in order to arrest or assassinate Ahmed Sa'adat, Secretary General of the Popular Front for the Liberation of Palestine (
PFLP
), and a number of other prisoners. The operation has so far left two guards dead and has injured a number of others.
According to investigations conducted by PCHR, at approximately 10:10, IOF, reinforced by at least 80 vehicles, including two bulldozers and two helicopters, moved into Jericho. They took position near the Palestinian governmental compound (Muqata'a) and Jericho Prison. They called through megaphones on all those who were inside the prison to surrender.
Later, they specified their demand that Ahmed Sa'adat, Secretary General of the PFLP; Fu'ad al-Shoubaki, a member of Fatah, who is accused of smuggling weapons; and Majdi al-Reemawi, who is accused of assassinating the late Israeli Tourism Minister, Rehavam Ze'evi, must all surrender. A number of the prison guards confronted IOF.
Two guards have been killed and 8 others have been wounded. The victims have not yet been identified as a result of the strict siege imposed by IOF on the area. At approximately 11:30, IOF started to demolish external walls of the prison and parts of the Muqata'a, where the prison lies. According to several sources, the US and British forces which guard Sa'adat left the prison 15 minutes before this attack.
It is worth noting that Sa'adat was arrested by Palestinian security services on 15 January 2002. He was detained in the Palestinian presidential compound in Ramallah, together with 5 other Palestinians, who are wanted by Israel. No charges were presented against him.
On 1 May 2002, Sa'adat and the other five detainees were transferred to Jericho Prison in accordance with an agreement in this regard, in which the US administration played a major role. Contrary to the case concerning 4 of the other detainees, who were convicted by a Palestinian military court of assassinating the late Israeli Tourism Minister, Rehavam Ze'evi, in Jerusalem in October 2001, no charges have been presented against Sa'adat, nor has he been brought to trial.
On 3 June 2003, the Palestinian High Court of Justice ordered the immediate release of Sa'adat, in response to a petition submitted by PCHR challenging the legality of Sa'adat's detention and demanding his immediate release.
Last week, PCHR, in cooperation with Hickman & Rose Solicitors, filed a lawsuit before the UK judiciary against the British government for its role in monitoring the illegal detention of Sa'adat in violation of the Palestinian High Court of Justice ruling. PCHR believes that this role violates the international law and humanitarian law.
PCHR strongly condemns this operation by IOF and expresses its shock at the withdrawal of the US and British guards from Jericho Prison before the operation took place. PCHR hold IOF fully responsible for the safety of Sa'adat and all other prisoners in Jericho Prison. PCHR calls upon the international community to immediately intervene and pressure the Israeli government to stop its military operation in Jericho Prison, as this operation will inevitably lead to more casualties among prisoners and guards.
Related Links