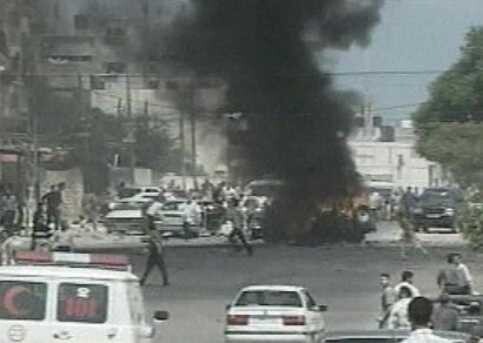 PCHR
condemns the latest war crime perpetrated by Israeli occupying forces this morning, which left dead 2 Palestinian civilians and wounded more than 30 others, including a number of children. The failed assassination attempt targeted Dr. 'Abdul 'Aziz al-Rantisi, a prominent leader of the Hamas movement. This latest attack is further evidence of the continuous escalation of illegal actions perpetrated by Israeli occupying forces against Palestinian civilians, including extra-judicial killings.
According to PCHR's investigation and eyewitness statements, at approximately 10:53 on Tuesday, 10 June 2003, 2 Israeli combat helicopters launched 6 missiles at a civilian car – a blue Mitsubishi – that was traveling in 'Ezziddin al-Qassam Street in a densely populated area in Gaza City. Dr. 'Abdul 'Aziz al-Rantisi, 60, a prominent leader of the Hamas movement, his son, Ahmed, 20, and two of his bodyguards were traveling in the car.
The first missile hit the front of the car. Although the passengers were wounded by the first strike, they managed to jump from the vehicle. Shortly after, the helicopters launched more missiles, completely destroying the car. The second strike killed a woman, who was passing by the area. The woman has been identified as Khadra Yousef Abu Hamada, 30 from Al Karama housing project, north of Gaza City. Dr. al-Rantisi survived the attack, but was wounded in his left leg. More than 30 civilians, including 8 children, were also wounded. Shortly after the attack the wounded were evacuated to Shifa Hospital in Gaza City. According to medical sources, 7 of the wounded were in a serious condition, including one of al-Rantisi's bodyguards, Mustapha Abdul Rahim Saleh, 30, from Gaza City. An hour after the attack, Saleh succumbed to his wound. Also among the wounded was PCHR staff member, Bassam Abu Hashish, 40, from Gaza City, who was wounded by shrapnel throughout his body, as he passed by the area.
PCHR expresses deep concern over the escalation in unlawful killing of Palestinians, which constitute war crimes under international humanitarian law. PCHR refers particularly to the illegal actions perpetrated by Israeli occupying forces since the recent Aqaba summit, which was attended by both the Israeli and Palestinian prime ministers in an effort to broker an agreement between the two sides. PCHR believes that this latest assassination attempt is further evidence of Israel's disregard for international human rights and humanitarian law and asserts that the policy of extra-judicial assassinations adopted by the Israeli government serves to escalate tension in the region and poses a grave threat to the lives of Palestinian civilians. PCHR reiterates its call upon the High Contracting Parties to the Fourth Geneva Convention to fulfill their legal obligations to ensure the protection of Palestinian civilians in the Occupied Palestinian Territories.
Related Links: