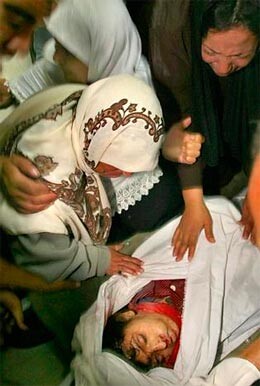 The circumstances surrounding the killing of Iman al-Hams are grave. However, the large number of Palestinian civilians killed indicate that her death is not unusual. What is unusual about this case, however, is the fact that the
IDF
initiated a Military Police investigation that led to an indictment. There is no such accountability for the vast majority of Palestinian civilian deaths.
Iman al-Hams, a twelve year-old girl, was shot and killed on 5 October 2004 while walking to school in the Rafah refugee camp. The company commander who shot her claimed that he acted in accordance with regulations, and the IDF Chief of Staff accepted the commander's version of events. Only after soldiers from the company told the press that the commander had "verified" her death (pumping her body with bullets from close range) did the Military Police initiate an investigation. The company commander has now been charged with illegal use of his weapon and obstruction of justice.
According to B'Tselem's data, since the beginning of the intifada, IDF soldiers have killed at least 1,656 Palestinians who took no part in the fighting. Of those killed, 529 were children. Many of these deaths result from changes in the Rules of Engagement, which now allow soldiers to open fire on Palestinians in a variety of non-combat situations, even when the soldiers are not in danger. The most blatant example is the order to open fire whenever Palestinians enter so-called "danger zones," including the perimeter fence around the Gaza Strip, and areas around military bases and settlements.
An equally troubling phenomenon, however, is the climate of impunity in which these deaths take place. Over the past four years, the IDF conducted only 89 military police investigations into deaths and injuries of Palestinians. Of these investigations, only 22 resulted in indictments. To date, one soldier has been convicted of causing the death of a Palestinian. Thus in the vast majority of cases, no one is ever held accountable.
The combination of rules of engagement that encourage a trigger-happy attitude among soldiers together with the climate of impunity results in a clear and very troubling message about the value the IDF places on Palestinian life.
B'Tselem calls on the Israeli government to cancel the orders allowing indiscriminate gunfire and to open a Military Police investigation into every death of a Palestinian who did not participate in hostilities. B'Tselem and the Association for Civil Rights in Israel petitioned the Israeli High Court in September 2003 with a similar demand. The High Court has yet to rule on this petition.
Related Links