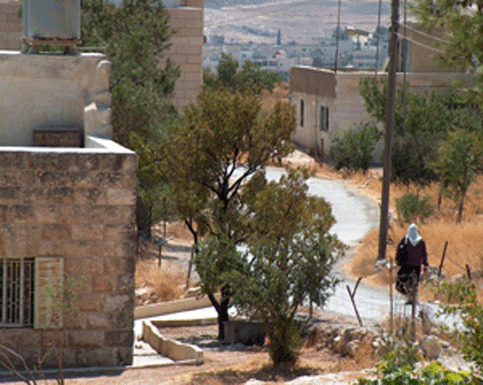 NEW

B'TSELEM

REPORT

:

ISRAEL

SAYS

THAT

NU'MAN

VILLAGE

IS

PART

OF

JERUSALEM

,

BUT

REFUSES

TO

GRANT

THE

VILLAGES

JERUSALEM

RESIDENCY

Today B'Tselem held a tour to release the organization's new report on the village of Nu'man. Although Nu'man is located within the municipal boundaries of Jerusalem, Israel has refused to recognize the villagers as Jerusalem residents, and give them permanent residency status, claiming they were not in the city in 1967. At the press tour, B'Tselem presented previously unseen aerial photographs of the village in 1967, 1977 and 1987 proving that the village was established before Israel occupied the area and has been inhabited ever since – thereby disproving the State's claim.
In recent months, Israeli authorities have even taken steps to expel them, claiming that they are illegally residing in their homes. During the tour, Yusuf Dirawi, a resident of Nu'man, told of his arrest by the Border Police at the end of July. He said that Border Policemen asked him and others to come for an investigation; "At 1:15
AM
they got me out of bed and took me to Checkpoint #300, the Bethlehem checkpoint, where they interrogated me. They said that I was in Israel illegally, and that I must promise not to return to my own home, where I was born."
The report also describes the impact of the separation barrier on the residents of Nu'man. B'Tselem's Director, Jessica Montell, said during the tour "the current route of the separation barrier will imprison Nu'man residents within their own village. They are already forbidden from entering Israel, now they will be physically cut off from the West Bank, the source of all essential services, and their source of income as well. Israel's residency and planning policies created an absurd, Kafkaesque reality for Nu'man. These combined with the separation barrier will make life simply unbearable."
In the report's conclusions, B'Tselem calls on the Interior Ministry to grant Israeli permanent resident status to the residents of Nu'man. B'Tselem further demands that the defense establishment remove the physical roadblocks that it erected between the village and other parts of Jerusalem. B'Tselem also calls on the government of Israel not to construct the separation barrier along the route planned, which will harm the residents of Nu'man and the neighboring villages.
To download the full report (Word97) click here.
Related Links:
Extracts of testimonies of residents of Nu'man describing the harsh conditions in the village,

B'T

selem (17 September 2003).
Aerial photos of the village, beginning in 1967,

B'T

selem (17 September 2003).