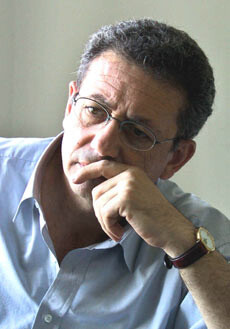 The Palestinian presidential election campaigns have not yet officially begun, but already there is much worry over Israeli-imposed restrictions on Palestinian movement, and how they might thwart the democratic election process. While Israel is making assurances that it will ease restrictions on movement during the election, recent events give reason to question their sincerity.
Acting Speaker of Parliament Hassan Khreisheh dropped out of the race today, citing Israel's refusal to allow him to travel to Gaza (though other members of parliament insist that he withdrew his candidacy because Palestinian basic law forbids him from serving as acting speaker and running for office at the same time). And at 9:00 pm last night, presidential candidate Dr. Mustafa Barghouthi and his campaign delegation were detained at the Jaba checkpoint outside of Jenin while they were attempting to travel home to Ramallah. The group was forced to lay down on the ground at gunpoint for over an hour, despite Dr. Barghouthi's VIP status.
In a press conference today, Dr. Barghouthi said that the Israeli soldiers manning the checkpoint began to act viciously towards the delegation after Dr. Barghouthi identified himself to the soldiers. His colleagues were pushed to the ground at gunpoint, and that after he tried to assist Dr. Allam Jarrar, whom he says suffers heart disease, Dr. Barghouthi was subjected to beating by the soldiers. Some members of the group were beaten with the butts of the Israeli soldiers' rifles, and all six persons were forced to stay motionless on the ground for over one hour.
Dr. Barghouthi said that this was the third instance his campaign was denied freedom of movement. He reminded the audience at the press conference that the presidential candidates (except for Fatah nominee and favorite Mahmoud Abbas) are not allowed to travel freely to Gaza or East Jerusalem. And to travel within the West Bank, Israel is demanding that campaign delegations arrange their movements with the Israelis beforehand.
Calling the restriction of movement imposed on the Palestinian population by the Israeli occupiers a form of humiliation, Dr. Barghouthi said, "If that's what they're doing to me … imagine what they're doing to an isolated Palestinian person [without VIP status]." He asked, referring to Mahmoud Abbas, "How can we have a democratic process if people are blocked in these prisons [between the checkpoints] and only certain candidates can move?" Abbas, who has a marginal lead over jailed candidate Marwan Barghouti (a distant relative of Dr. Barghouthi), was named head of the Palestinian Liberation Organization (PLO) after Yasser Arafat's death last month and enjoys freedom of movement not granted by Israel to the other candidates.
Not only are the presidential candidates denied freedom of movement within the occupied territories, but Palestinian voters are afforded the same mistreatment as well. Those who hold ID cards for governorates other than the ones in which they reside (many Palestinian laborers live away from their families in the governorates where they work because they don't have the proper ID to travel from one area to the next) will face difficulty casting a ballot in their proper voting jurisdiction, and it is unclear if this issue will be resolved before the election January 9.
While Palestinian Cabinet Minister Saeb Erekat said after meeting with Israeli officials yesterday, "We received assurances that the elections of the West Bank, East Jerusalem and Gaza Strip will take place as they did in 1996," Israeli actions in the West Bank have caused Palestinians to remain skeptical. Continued Israeli construction of its wall within the West Bank and the ongoing regime of checkpoints further complicate Palestinian movement.
Last month US President Bush said in a joint press conference with UK Prime Minister Tony Blair that Palestinian elections would be the "first step in creating lasting democratic political institutions through which a free Palestinian people will elect local and national leaders." However, such a democratic process is seriously threatened if candidates aren't able to freely travel and meet with their strategists and constituents, and voters aren't able to freely get to the ballot box.
Maureen Clare Murphy, currently living and working in Ramallah, is Arts, Music, and Culture Editor for The Electronic Intifada.
Related links: