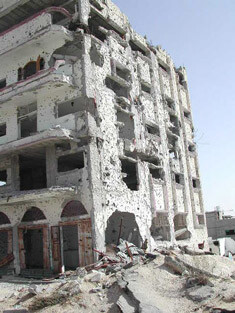 PCHR
strongly condemns the latest attack committed by Israeli Occupying Forces (
IOF
) this morning, when they fired an artillery shell at a school in Khan Yunis, wounding 7 Palestinian schoolchildren under the age of 9.
PCHR
is increasingly concerned for attacks by
IOF
on educational institutions, threatening the lives and safety of children, even in places where full protection is supposed to be offered to them in all circumstances.
According to preliminary investigations conducted by PCHR, at approximately 09:10 on Sunday, 12 December 2004, IOF positioned in military posts in the vicinity of "Neve Dekalim", "Gadid" and "Gan Aur" settlements, west of Khan Yunis, opened fire at Palestinian houses and schools to the east and north of the aforementioned settlement. An artillery shell hit the sport yard of an elementary school, approximately 600 meters to the northeast of the settlement.
As a result, 6 schoolchildren were wounded as they were in the yard and a seventh one was wounded when she was inside a classroom. The children were evacuated in civilian cars to Nasser Hospital in Khan Yunis. Their wounds were described by medical sources as moderate. Following this attack, the school was vacated as schoolchildren were extremely terrified. The same school was subject to a number of attacks by IOF in the past. For instance, on 25 September 2004, 11-year-old Madeline Hamdan Buraika was wounded by a live bullet in the forehead when she was sitting on her desk.
Palestinian educational institutions have been frequently attacked by IOF, and PCHR has documented dozens of such attacks, which injured dozens of schoolchildren while they were at school. In one of such attacks, on 12 October 2004, 11-year-old Ghadeer Jaber Mukhaimer was seriously wounded by a live bullet in the chest when she was sitting on her desk at an UNRWA elementary school in Khan Yunis refugee camp. She died at the hospital on the following day.
PCHR is gravely concerned for such grave breaches of international law and international humanitarian law perpetrated by IOF against Palestinian children and their rights to life, security, physical integrity and education. PCHR calls upon the international community, particularly the High Contracting Parties to the Fourth Geneva Convention of 1949, to immediately intervene to stop Israeli attacks that have affected the lives, security and physical integrity of Palestinian civilians, and to provide protection for these civilians.
PCHR calls also upon international organizations, especially UNESCO and UNICEF, to immediately intervene to sop Israeli violations of the right of Palestinian children to education, which is ensured by international humanitarian law and international human rights law.
Related Links