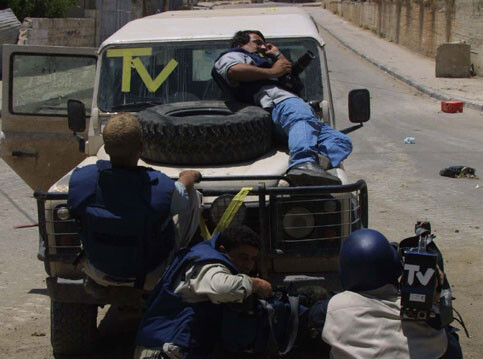 PCHR
condemns shooting at a Palestinian journalist by Israeli Occupation Forces (
IOF
) on Sunday, 2 January 2004, when he was covering an Israeli military incursion into the northern Gaza Strip town of Beit Hanoun. The journalist was seriously wounded by a live bullet.
PCHR
is concerned at the escalation of attacks by
IOF
on journalists and media crews, which is further evidence of the use of excessive force by
IOF
against civilians in general and amounts to a  systematic targeting of journalists in an attempt to silence the press. The goal of which is to prevent journalists from reporting about attacks on Palestinian civilians.
According to eyewitnesses, at approximately 15:30 on Sunday, 3 January 2005, IOF that had already moved into the northern Gaza Strip town of Beit Hanoun fired at Majdi Jamil al-'Arabeed, 34, from Gaza City, a cameraman of the Israeli Channel 10 and director of the local al-Horriya radio in Gaza. He was seriously wounded by a live bullet in the side and the pelvis. He was evacuated to Kamal 'Edwan Hospital in Jabalya, where he underwent a surgery, and as his condition remained serious, he was transferred to an Israeli hospital.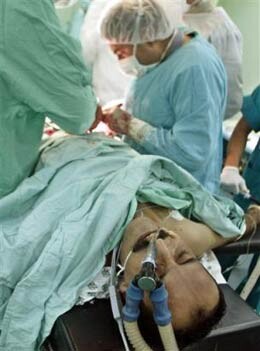 Al-'Arabeed and a number of other journalists were covering an Israeli military incursion into Beit Hanoun. They were nearly 200 meters away from Israeli tanks and the area was quiet. Approximately 20 minutes later, Israeli tanks opened fire at the journalists, who were wearing clearly identified press suits and holding their cameras. It was then that Al-'Arabeed was wounded.
PCHR condemns this latest attack which came in the context of systematic targeting of journalists by IOF. PCHR has documented at least 500 attacks, including 8 killings and at least 100 injuries, by IOF against local and international journalists since the beginning of the current Palestinian Intifada. PCHR reiterates its call for the High Contracting Parties to the Fourth Geneva Convention of 1949 Relative to the Protection of Civilian Persons in Time of War to fulfill their obligations under the Convention to ensure its respect in all circumstance, and intervene to stop grave breaches of the Convention perpetrated by IOF.
Related Links