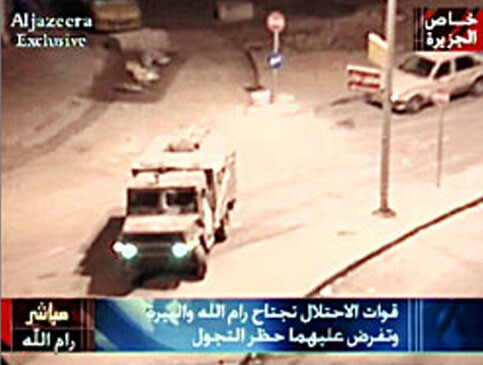 The Arab news channel Al-Jazeera reported that Israeli forces have launched a major raid on Ramallah. Israeli forces entered the city shortly after 16.30

GMT

and imposed a curfew on residents of the center of the city. They surrounded the Abd al-Nasir Mosque and people inside were told to leave in groups of four and present identity papers, the Arab news channel reported.

The Israeli daily Ha'aretz reported that Israeli forces opened fire and threw stun grenades to disperse hundreds of residents who resisted the raid.

Members of the International Solidarity Movement told Al Jazeera that a number of worshippers decided to stay put, leading to a stand-off with soldiers.

According to the Jerusalem Post 23 residents of Ramallah had been injured after Israeli forces fired with rubber-coated metal bullets and teargas. Ha'aretz reported that Israeli paratroopers and soldiers from the Duchifat unit questioned worshippers and then pulled away from the mosque, without making any arrests.

A correspondent for Al Jazeera said that Israeli forces had entered its office in nearby El-Bireh and asked the staff and journalists to close the doors and remain inside. The station broadcast live footage of an Israeli officer arguing with correspondents and staff members. Earlier today, Reporters Without Borders, a top media watchdog, has accused Israel and the United States of unacceptable behaviour towards journalists in occupied Palestine and Iraq. The watchdog published its second press freedom ranking on Monday which stated that the Israeli army was guilty of injuring and threatening journalists in the West Bank and Gaza.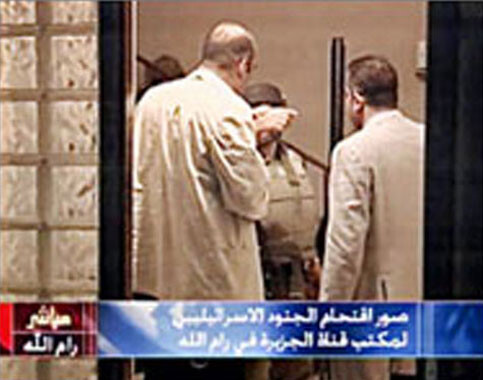 Israeli forces had imposed a curfew on the area, the university town of Bir Zeit and Kufr Malik. After a couple of hours, Israeli forces withdrew again. Around ten Israeli vehicles had entered Bir Zeit, close to where a group of Israeli soldiers was ambushed by Palestinian resistance on Sunday night.