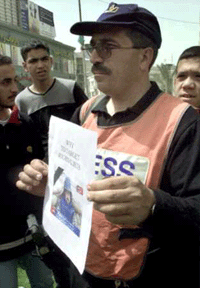 Reporters Without Borders called for an immediate investigation into the killing by the Israeli army in Nablus today of Palestinian cameraman Nazeh Darwazi, who was working for the
APTN
(Associated Press Television Network) news agency and the Palestinian state television.
Witnesses said Darwazi (42) was shot in the head by an Israeli soldier at a range of only 20 yards. The bullet entered through his eye. The journalist, wearing a yellow jacket marked "press," was with half a dozen others, including cameraman Hassan Titi and photographer Abed Qusini, both of Reuters news agency, Billal Bana, of the Palestinian news agency Wafa, and Sami al-Assi, a cameraman with a local TV station.
They were covering clashes between a group of young Palestinians and Israeli soldiers in which at least 17 Palestinians were wounded. The Reuters cameraman filmed Darwazi being shot. The Israeli army did not comment on the killing.
"We are appalled by his death," said Reporters Without Borders secretary-general Robert Ménard. "He is the fourth journalist killed in the Occupied Territories since the beginning of the second Intifada in September 2000. We demand an enquiry into who was responsible, with its results made public, and for those responsible to be punished."
Three journalists were killed in the Occupied Territories last year. Photographer Raffaele Ciriello (42), working for the Italian daily Corriere della Sera, was killed on 13 March while covered armed clashes in the centre of Ramallah. He was standing behind a group of armed Palestinians when an Israeli tank about 150 metres away began automatic fire. Ambulances could not reach the scene because of the intense shooting. Ciriello was taken by Palestinians to the Arab Care hospital, where he died soon afterwards from six bullet wounds in the chest and stomach.
Freelance photographer Imad Abu Zahra (35) died on 12 July after being seriously wounded in the leg in the centre of Jenin when Israeli armoured cars opened fire without warning and, according to witnesses, without any clash or dangerous situation to justify the shooting. An Israeli army spokesman said "a crowd was throwing stones and firebombs at our vehicles so we had to respond."
Issam Hamza Tillawi (32), a journalist and presenter with The Voice of Palestine, was shot by the Israeli army on 22 September. He was covering street protests in the centre of Ramallah by thousands of Palestinians against the Israeli army's siege of Palestinian President Yasser Arafat's headquarters in the city. Carrying a tape-recorder and a bag, he was interviewing the protesters when Israeli troops began firing teargas. As he ran from the scene he was hit by a shot that witnesses said came from an Israeli sniper on top of a building. The director of Ramallah Hospital confirmed he had been hit by a bullet in the back of his head. He died at the hospital half an hour later. The chief editor of The Voice of Palestine, who was with him, said he was wearing a jacket marked "press."
Since the beginning of this year, at least four journalists have been wounded while working in the Occupied Territories. Last year, eight were wounded, most of them clearly identifiable as journalists and therefore no danger to the army. They were hit by warning or intimidatory shots which sometimes caused serious wounds. None of the incidents were investigated by the Israeli army and those responsible were not punished.