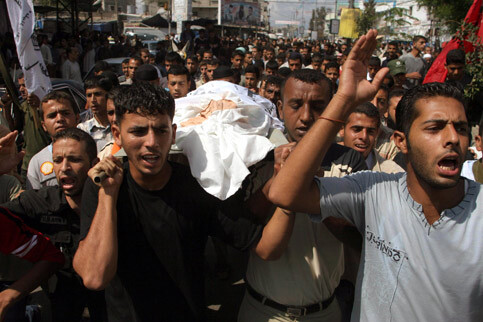 Israeli Occupation Forces (
IOF
) have committed two new war crimes in the Gaza Strip over the past two days, resulting in the death of four Palestinian civilians. Two of the victims were children brothers, and were killed when
IOF
fired a surface-to-surface rocket at them without any justification. The other two were killed in Rafah in an extra-judicial execution crime, which also resulted in the injury of two others, one of them a child.
PCHR's preliminary investigation into the first crime indicates that at approximately 9:15 on Friday, 29 September 2006, IOF deployed inside the Gaza Strip near Nahal Oz checkpoint, east of Gaza City, fired a surface-to-surface rocket at two children riding their bicycles near El-Shawwa Gas Station on Salah El-Deen Road west of Beit Lahia. The two children, who are brothers, suffered a direct hit, and their bodies were dismembered. The children were later identified as Anwar Abdel Ghani Hamdan (16) and his brother Hammam (13), residents of the town of Jabalia.
The Center's investigation indicates that the two children passed near an abandoned rack used to launch a homemade rocket against Israeli targets at an earlier time.
PCHR's preliminary investigation into the second crime indicates that at approximately 22:00 on Saturday, 30 September 2006, an IOF drone fired a rocket at two activists from Al-Aqsa Martyrs Brigades, the armed wing of Fatah, who were walking near the eastern martyrs' cemetery in El-Salam Quarter in Rafah. They suffered a direct hit, killing one of them instantly and the other a few hours later from shrapnel injuries. Two bystanders were injured by shrapnel, one of them a 16-year old child. The two killed victims are Bassam Salama Bin Hamad (30) and Husam Fayez Ghayyad (22).
PCHR strongly condemns IOF killing of Palestinian civilians, and considers these actions to be a form of reprisal and collective punishment, which violate Article 33 of the Fourth Geneva Convention. PCHR condemns these two crimes, and:
Points out that the

IOF

policy of extra-judicial executions against Palestinian activists increases tension in the region, and threatens to cause more casualties among Palestinians;
Expresses serious concern over the lives of Palestinian civilians due to the escalating use of force by

IOF

against civilians;
Reminds of the past

IOF

crimes against civilians, and the continued failure to discriminate between civilians and combatants by

IOF

during operations; and
Calls upon the international community and High Contracting Parties of the Fourth Geneva Convention to intervene immediately and effectively to protect Palestinian civilians.

Related Links
BY

TOPIC

: Israell's Assassination Policy
The Palestinian Centre for Human Rights (PCHR) is an independent legal body based in Gaza City dedicated to protecting human rights, promoting the rule of law and upholding democratic principles in the Occupied Palestinian Territory. It holds Special Consultative Status with the Economic and Social Council (ECOSOC) of the United Nations and is an affiliate of the International Commission of Jurists, the Federation Internationale des Ligues des Droits de l'Homme (FIDH), and the Euro-Mediterranean Human Rights Network. PCHR is a recipient of the 1996 French Republic Award for Human Rights.