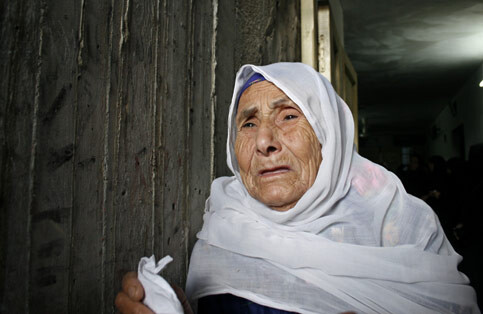 On Wednesday, 12 November 2008, Israeli Occupation Forces (
IOF
) carried out an incursion into al-Qarara town and killed four Palestinians.
IOF
continues to seal the Gaza Strip's borders and impede entry of food, medical supplies and fuel for the seventh day in a row.
According to Al Mezan investigations, at around 10am on Wednesday, 12 November 2008, Israeli troops infiltrated nearly 300 meters inside agricultural lands in the al-Wad area to the northeast of Khan Younis city. Soldiers engaged in firefight with members of the Palestinian resistance. The IOF sent in tanks and military vehicles to reinforce the troops, under surveillance by drones and a cover of tank shells.
At approximately 11:30am, drones fired a number of missiles towards a group of resistance members. The Israeli ground forces denied ambulances' access to the area to evacuate the wounded during the invasion. The IOF withdrew at around 12:20pm and medical crews were able to enter the area. They found four dead bodies and transported them to Nassir Hospital in Khan Younis. They were identified as Muhammad Siyam (27), Rami Freina (34), Muhsin al-Qidra (24), and Ismail Abu al-Ila (32).
This new Israeli aggression occurred as the humanitarian conditions and living standards continue to deteriorate in the Gaza Strip as a result of the siege the IOF imposes on it since October 2000. The siege has been particularly tightened since September 2007. The siege has had brutal impacts on the humanitarian conditions in Gaza with shortage in life essentials and fuel, representing one of the worst forms of collective punishment of the 1.5 million persons in Gaza. After a week of complete closure of Gaza's borders, the human rights conditions have exacerbated. Al Mezan observed there was shortage of food, medical supplies, wheat flour, grains, and fodder and vaccines for livestock and poultry around Gaza.
On Tuesday and Wednesday, 11 and 12 November 2008, respectively, Israel resumed providing the Strip with limited amounts of diesel for running Gaza's power plant. However, it continues to prohibit fuel supplies for the seventh day in a row. IOF continues to prevent people's movement through Erez Crossing, except for foreign citizens and part of urgent medical cases. Erez was closed completely for one day on 5 November 2008.
It is noteworthy that the siege imposed on Gaza since 2000, has hindered stockpiling basic goods or fuel, which makes Gaza's population highly vulnerable even to short closures.
Al Mezan Center for Human Rights strongly condemns Israel's systematic, gross violations of human rights, especially the closure and blockade that represent the worst forms of collective punishment of civilians. The Center reiterates its calls upon the international community, especially the High Contracting Parties to the Fourth Geneva Convention, to take immediate action to end the IOF's grave breaches of the Convention and violations of human rights, especially the continuing collective punishment of the civilian population of the Gaza Strip.
Related Links