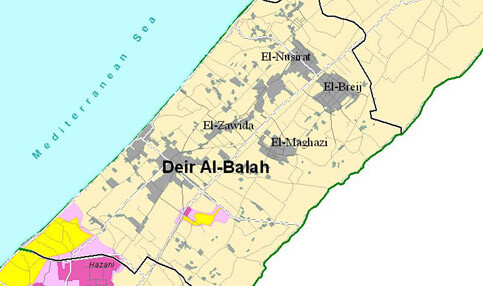 On Thursday, 2 September 2004, Israeli Occupation Forces (
IOF
) killed 4 Palestinians, including a child, and injured 52 others in the central Gaza Strip town of Deir al-Balah. They also destroyed one house, damaged 20 others and razed 12 donums
[1
] of agricultural land. These attacks took place during a 25-hour Israeli military incursion into Deir al-Balah. Preliminary investigations conducted by
PCHR
strongly indicated that Israeli troops continuously used excessive force against Palestinian civilians during this incursion.
According to these investigations, at approximately 01.50 on Thursday, 2 September 2004, Israeli troops, reinforced by heavy military vehicles, moved from "Kfar Darom" settlement nearly 500 meters into the central Gaza Strip town of Deir al-Balah. Under the cover of indiscriminate shelling, they started to place sand barriers on roads and raze areas of agricultural land. They also damaged the electricity and water networks. At approximately 07.00, Israeli troops raided and searched 4 houses. They held residents of these houses and transformed the roofs into military posts. They also arrested 3 of the residents of these houses, but later released them.
At approximately 10.00, more Israeli troops, reinforced by helicopter gun-ships, were deployed in the area. They opened fire at residential and agricultural areas in the town, injuring 8 Palestinian civilians, including 3 children. At noon, a number of members of the Palestinian resistance clashed with Israeli troops. The IOF opened fire at streets where dozens of Palestinian civilians were gathering. As a result of the Israeli gunfire, 4 Palestinian civilians, including a child were killed. The child was killed when he was near his uncle's house, which had been transformed by Israeli troops into a military post. In addition, 44 other civilians were injured, 3 of whom were in a serious condition.
The four victims were identified as: Mohammed Jamal Abu Musabbeh, 15, hit by shrapnel to the chest and the right hand; Mohammed Jamal Baraka, 19, hit by a live bullet to the chest; Ahmed Maher Abu Shawish, 19, hit by a live bullet to the abdomen; and Shadi Samir Abu Ghurab, 18, hit by 2 live bullets to the chest and the shoulder.
At approximately 01.30 on Friday, 3 September 2004, Israeli troops raided Ahmed al-Kurd's house and planted explosives inside. At approximately 03.00, they destroyed the house claiming that a tunnel was found under it. As a result of this destruction, 20 neighboring houses were damaged. Israeli troops also razed 12 donums of agricultural land planted with citrus.
PCHR is gravely concerned at this serious escalation by Israeli occupation troops in the occupied Palestinian Territory (oPt), especially in the Gaza Strip. PCHR believes that continued failure of the international community to take firm action against the Israeli authorities encourages Israel and its occupation troops to continue to act with impunity. PCHR reminds the High Contracting Parties to the Fourth Geneva Convention of 1949 of their legal obligations to "ensure respect" for the Convention.
Related Links