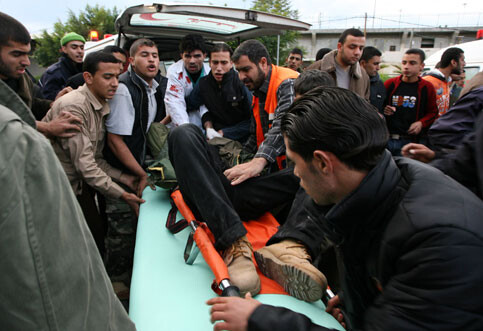 Israeli Occupation Forces (
IOF
) have escalated their aggression on the Gaza Strip since the Eid al-Adha eve, killing twenty Palestinians and injuring 27 others, including four critically. The casualties resulted from acts of assassination and bombardment, and an incursion in central Gaza during which eight were killed on 20 December 2007.
IOF
also leveled sixty dunums (one dunam equals 1,000 square meters) of agricultural land and partially destroyed twelve homes in the area.
According to Al Mezan's investigations, at approximately 12:30pm on 20 December 2007, an IOF special unit sneaked into middle Gaza area from the eastern border fence and headed to the west. It entered for one-and-a-half kilometers and reached the village of al-Msadar in central Gaza. Soldiers stormed six tall buildings and held their inhabitants into one room in each building. They opened holes in the walls and used them for snipers. In a standard procedure, soldiers removed floor tiles and used them for hiding. At approximately 6am on the same day, an IOF unit reinforced by four armored bulldozers and ten tanks took positions in the area. Bulldozers leveled sixty dunums of cultivated land. IOF also launched air strikes and artillery attacks, which left many civilians and fighters killed and injured and caused damage to twelve homes.
It was reported that eight Palestinians were killed during the incursion in Al-Msadar village. They were identified as:

28-year-old Walid Hussein Calloub
19-year-old Jihad Mousa Jabr
24-year-old Ibrahim Abu Middin
26-year-old Mahmoud Mahmoud al-Mishal
22-year-old Naim Salman al-Arruki
24-year-old Hamza Salim Abu Tiyour
22-year-old Khalil Bajis Al Issawi
23-year-old Samer Helmi Abu Saif.
At approximately 1:30pm, also on 20 December, IOF wounded Reuters photographer Nihad Khalil Shanaa, who was injured as soldiers opened fire at him from the top of a tall building. At approximately 3:30pm on the same day, soldiers opened fire at another photographer, Rami Abu Dayya, who works for al-Aqsa TV. He sustained wounds from shrapnel to his head as helicopter gunships launched three missiles that landed in Block B of the nearby al-Maghazi refugee camp. Seventeen Palestinians were injured during this incursion, four critically, before IOF retreated at approximately 10:20pm.
At approximately 6am on 18 December 2007, an IOF spy drone fired two missiles at four Islamic Jihad activists in north Gaza as they walked near the at-Touba mosque in Jabaliya refugee camp, which is one of the most densely populated areas in Gaza. Three of those were killed immediately while the fourth died from wounds on the next day. They were identified as:

34-year-old Samir Awadallah Bakir
32-year-old Muhammad Said al-Taramsi
27-year-old Usama Ali Yasin
36-year-old Husam Mohammed Abu Habil
Five others were injured in this attack, all while returning from the dawn prayer at the mosque.
In yet another attack, at approximately 10:45am on 18 December 2007, an IOF launched an air strike at a police station close to the Morag intersection in the north of the southern Gaza town of Rafah. One police member, 21-year-old Hani Najeh Barhoun, was killed, and 20-year-old Mohammed Khalid al-Sharif was injured from shrapnel.
Earlier at approximately 11:30pm on 17 December 2007, IOF fired two ground-to-ground missiles at four persons in a field located in the south of al-Zaytoun neighborhood in the south of Gaza City. The four were killed and were identified as:

34-year-old Na'il Rushdi Tafish
24-year-old Karim Marwan Ad-Dahdouh
25-year-old Ayman Abdul-Latif al-Eila
34-year-old Ammar Abu Is'eed
At approximately 8:30 on the same day, an IOF fighter jet fired a missile that hit a car on Said Aal-Aas Street in al-Nasir neighborhood of Gaza City. Two persons who were in the car were killed. They were identified as 35-year-old Majid Yousif al-Harazin and 38-year-old Jihad Daher. Five bystanders were also injured in the attack.
Al Mezan Center for Human Rights strongly condemns the escalation of IOF aggression against the Gaza Strip. It particularly condemns the arbitrary attacks on urban areas.
Al Mezan also condemns IOF's continued siege on the Gaza Strip, which has caused severe suffering to the civilian population. The Center calls on the international community to act effectively and in harmony with its obligations under international humanitarian law (IHL) by intervening to halt IOF's conducts, which constitute grave breaches to the Fourth Geneva Convention Relative to the Protection of Civilians in Times of War (of 1949). These acts have brought about a serious deterioration of the human rights situation in the occupied Palestinian territories, especially in Gaza. Al Mezan therefore calls on the international community, particularly the High Contracting Parties to the Fourth Geneva Convention, to ensure proper protection for the civilian population under occupation in accordance with the obligations under IHL.
This report was edited for clarity.
Related Links