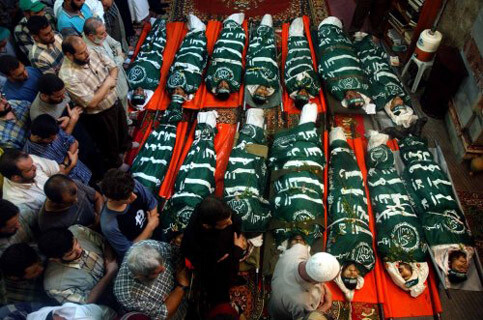 In the early morning of Tuesday, 7th of September 2004, 14 Palestinians were killed and at least 12 others were injured when Israeli occupation forces shelled a training center belonging to the Hamas movement, in al-Tuffah neighborhood in the east of Gaza City.  Israeli authorites claimed responsibility for this attack and claimed that it came in response to the suicide bombing in Ber al-Saba (Beersheva) last week. Medical sources in hospitals in Gaza City stated that the condition of a number of the injured are critical.
According to preliminary investigations conducted by PCHR, at approximately 00.00 on Tuesday, 7 September 2004, Israeli helicopter gun-ships and tanks attacked Sheikh Ahmed Yassin stadium, a training center for Hamas activists, in al-Sha'af area in al-Tuffah neighborhood in Gaza City.  A number of missiles and shells directly hit the trainees, killing 14 of them and injuring at least 12 others.  Five of the injured are in a critical condition. 
The 14 victims were identified as: Eihab Mohammed al-Deeb, 23; Ussama 'Awni Hajaliya, 26; Sa'id Yasser 'Ouda, 25; Mo'tassem Fu'ad Al-Zarbatli, 23; Ghassan 'Obaid, 23; Mohammed 'Omar Jindiya, 21; 'Aaref Qassem Jindiya; 20; Ahmed Khairi Eskafi, 25; Adham Karim Quraiqe', 22; Bilal Fayez Quraiqe', 22; Mohammed 'Abdullah Qanou', 18; 'Ezzat Ahmed al-Wadiya, 19; Fares Sa'di al-Sirsawi, 22; and Ayman Khazzaa' Farahat, 18.
PCHR is gravely concerned at this latest escalation by IOF, and strongly condemns retaliatory actions by Israeli troops in the occupied Palestinian Territory (oPt)  PCHR also reiterates its call for the High Contracting Parties to the Fourth Geneva Convention of 1949 to fulfill their, Article 1 obligations under the Convention and "ensure respect" for the Convention by acting to protect Palestinian civilians in the oPt.  PCHR calls upon the international community to immediately intervene to stop these attacks perpetrated by IOF against Palestinian civilians and their properties.
Related Links