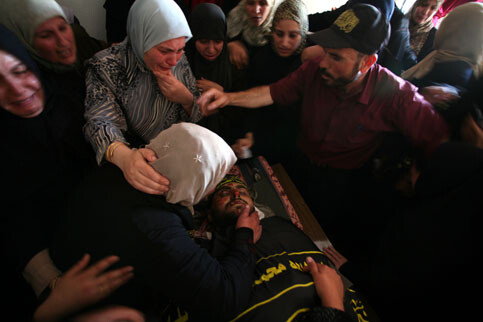 The Israeli Occupation Forces (
IOF
) escalated their aggression against the Gaza Strip by launching several attacks yesterday, 17 June 2008, which killed six Palestinians in separate attacks in Khan Younis and Deir al-Balah. According to data collected and compiled by Al Mezan Center for Human Rights, the number of Palestinians killed by
IOF
since the start of 2008 has reached 357. Since 1 June 2008 25 Palestinians have been killed by
IOF
.
According to Al Mezan investigations, on Tuesday, 17 June 2008, at approximately 2:10pm, an IOF drone launched one missile at a car traveling on Brouk Road in Deir al-Balah. The rocket landed beside the green Honda and all passengers were able to escape. Three young men riding a donkey cart were hit by shrapnel as they were passing by when the missile struck. About 15 minutes later, the drone launched another missile at the passengers who had fled the targeted car. They were walking on al-Bee'a Street. As a result, three of them were injured. According to medical sources, one of the injured later died. He was identified as 23-year-old Salah Saber Qaduha from al-Nuseirat refugee camp.
In a third raid on the Gaza Strip that same day, at approximately 2:30pm, an IOF aircraft fired one missile towards a car carrying five passengers. The car was heading north on Jamal Abd al-Nasser Street, about five meters from the junction in al-Qarara village, north of Khan Younis. The missile hit the car directly and it burst into flames upon impact. It was destroyed completely. All people in the car were killed and their bodies were taken to Nasser Hospital in Khan Younis. The victims are:

29-year-old Mo'taz Mohammad Doghmosh,
21-year-old Mohammad Amer Asaliyeh,
21-year-old Nidal Khalid al-Sdoudi,
27-year-old Mahmoud Mohammad al-Shendi, and
35-year-old Fawzi Sulaiman al-Odaini.
Al Mezan Center for Human Rights expresses its strong condemnation of these conducts by IOF, which constitute extrajudicial killings that grossly violate international humanitarian law. Such acts require swift prosecution of those responsible, regardless of motive or cause behind the conduct of these violations.
Related Links