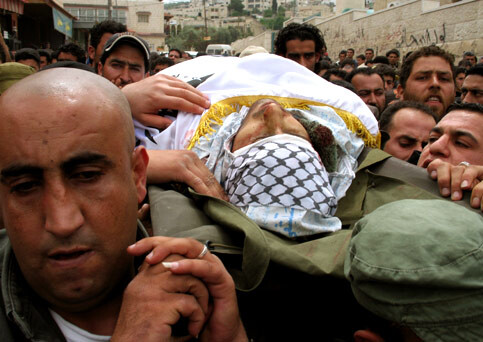 On Tuesday afternoon, 17 April 2007, Israeli Occupation Forces (
IOF
) extra-judicially executed a member of the al-Aqsa Martyrs Brigades (an armed wing of Fatah movement) near Jenin town in the northern West Bank.
IOF
shot him dead after having arrested him.
According to investigations conducted by PCHR, at approximately 12:30 on Tuesday, an IOF undercover unit moved arrived at al-Shuhada intersection on Jenin-Nablus road, traveling in a civilian vehicle with a Palestinian registration plate. The vehicle stopped near a stone treatment compound belonging to Fayez 'Alawna. Two IOF soldiers got out of the vehicle and intercepted a Palestinian car that was traveling in the area. The driver got out of the car with his hands up. The two soldiers moved towards him, and one of them kicked him to the abdomen. The driver fell on his back. The two soldiers then carried him and then left him hitting a tree at the roadside. When he fell onto the ground, one of the IOF soldiers moved towards him and shot him dead to the head and the abdomen from a zero range. The victim was later identified as Ashraf Mahmoud 'Aaref Hanaisha, 24, from Qabatya village near Jenin. IOF claim that he was wanted.
PCHR strongly condemns this hideous crime, and:
1) Reiterates its condemnation for extra-judicial executions committed by IOF, and stresses that they serve to increase tension in the region and threaten the lives of Palestinian civilians.
2) Calls upon the High Contracting Parties to the Fourth Geneva Convention of 1949 to fulfill their obligations under the Convention and ensure protection for Palestinian civilians in the Occupied Palestinian Territory.
Related Links