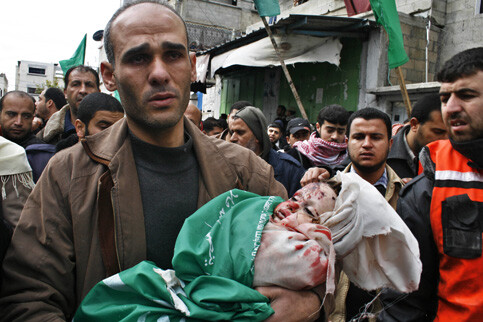 4:00pm Gaza Time (+2

GMT

)
Israeli attacks on Gaza have continued for an eighth day. The Israeli Occupation Forces (IOF) targeted more civilian objects. This includes bombardment of more houses and the Civil Defense building in Bani Suhaila town and the American School in northern Gaza. Air raids have also targeted open areas within the neighborhood, but particularly along the eastern and northern borders and the border between Gaza and Egypt. IOF's naval vessels escalated their bombardment of Gaza's beaches.
The death toll resulted from IOF's attacks has reached 363, including at least 59 children and 18 women. This figure reflects only those cases which Al Mezan Center has been able to verify, and it is expected to rise.
In North Gaza district, Israeli aircrafts bombarded the house of Yehia Abu Ghaben at approximately 3:45am today, Saturday 3 January 2009. The house, which is located in Tel al-Zatar neighborhood of Jabaliya, was completely destroyed and three other houses were damaged. No casualties or injuries were reported.
At approximately 4:40am today, aircrafts bombarded the American School which is located in the northwest of Beit Lahia town, destroying it completely and killing its guard, 24-year-old Salem Mohammed Abu Klaik. Another resident of the area was also injured in the attack.
At approximately 9:35am also today, IOF fired four artillery shells near the Agricultural School in Beit Hanoun. The school's building was damaged and three passersby were injured, including senior political leader of PFLP Mohammed Ali Nasser, 55. Later, at approximately 12:30pm, Israeli aircrafts bombarded a cow farm owned by Mohammed Said Ali, destroying it completely and killing 21 cows. Several houses in the area were damaged.
At approximately 2:20 Israeli aircrafts raided the Nasser Hill, opposite to al-Nada Towers in North Gaza district. Numerous apartments in the towers sustained severe damage in this raid. People had evacuated their apartments during the last two days following Israeli raids. Some of them took shelter in UNRWA's [the United Nations agency for Palestine refugees] Khalil Uwaida School.
In Gaza City, Israeli aircrafts raided the house of Hamdi al-Dardasawi at approximately 11pm yesterday, 2 January 2009. As a result, a 14-year-old girl, Sojoud Hamdi al-Dardasawi, was killed. Earlier, at 3pm yesterday, IOF bombarded a four-story house owned by Yaqoub Dababish, destroying the house completely and injuring six people.
At 1:30am today, Israeli aircrafts fired a missile at 35-year-old Mamdouh al-Jammal as he was walking in Tel al-Hawa neighborhood south of Gaza City, killing him immediately.
At approximately 4:30pm yesterday, Israeli aircrafts bombarded a small bridge connecting al-Zahra town with al-Nuseirat refugee camp, south of Gaza City, destroying it. A car that was passing by the bridge when the raid occurred was hit and its driver, 30-year-old Majid Khalil al-Bardawil, was killed. At approximately the same time, at 4:40pm, an Israeli raid targeted the village of Wadi Gaza, east of Gaza City, killing a woman. She was identified as 22-year-old Tahani Kamil Ayish. Three of her family members were also injured in this raid.
IOF's naval vessels also escalated their bombardment of Gaza's beaches last night and today. In al-Zawayda village, in Central Gaza district, [IOF] bombarded a field, destroying and burning greenhouses owned by the Shallat family.
In Khan Younis district, Israeli aircrafts targeted a car near the Mahatta area at approximately 12:50pm today, killing 24-year-old Mahmoud Abu Marouf and 28-year-old Shadi al-Shorbaji.
In a serious escalation, Israeli aircrafts bombarded and destroyed the Civil Defense building in the town of Bani Suhaila, east of Khan Younis City, at approximately 3:05pm today.
Medical sources reported to Al Mezan that two of the Palestinians who were transferred to hospitals in Egypt died. The Center knew that one of them was 30-year-old Odeh Hamada Abu al-Aish.
As this press release was being translated into English, initial news reported that Israeli aircrafts bombarded al-Makadma Mosque in Beit Lahia while dozens of people were praying in it. Initial news reported that 25 people were killed in this attack, which would further raise the above-mentioned number of casualties of the Israeli operation. [At the time of The Electronic Intifada's publication of this release, news agencies reported at least 11 were killed.]
Al Mezan Center for Human Rights expresses its strongest possible condemnation of the Israeli military operation against Gaza, which has already caused unprecedented loss of civilian life and suffering for the 1.5 million people living in it. Al Mezan therefore reiterates its calls upon the international community to take effective action to bring to an end these operations without delay. Al Mezan calls upon:
The United Nations Secretary-General to condemn the Israeli disproportionate use of force and the targeting of civilians and civilian objects in defiance of peremptory rules of international law;
The United Nations agencies to provide urgent humanitarian aid and safe shelters for Gazans who have been displaced and those living in threatened areas
The International Committee of the Red Cross to double its efforts to ensure humanitarian access for civilians and ensure tending to the urgent needs for medicines and water;
The international community to condemn the grave breaches of international humanitarian law (

IHL

) and human rights by Israel in the Gaza Strip, and take concrete steps to bring them to an end;
The Human Rights Council to request the

UN

general Assembly to call for the convening in Switzerland of a conference of the High Contracting Parties to the Fourth Geneva Convention Relative to the Protection of Civilians in Times of War, of 1949, to consider the breaches by Israel of its nonderogable obligations under the Convention in the course of its ongoing military actions in Gaza, and to consider the necessary measures to ensure respect of the rules set out in the Convention and its relevant protocols.
Civil societies around the world to exert pressure on their governments so that they act in conformity with the relevant human rights and humanitarian obligations as prescribed in relevant international law.
Failure to take any action despite the enormous amount of information about the consequences of Israel's conduct towards human life and well being in the Gaza Strip, including about the occurrence of grave breaches of IHL amounting to war crimes, only encourages the aggravating of the situation.
Related Links