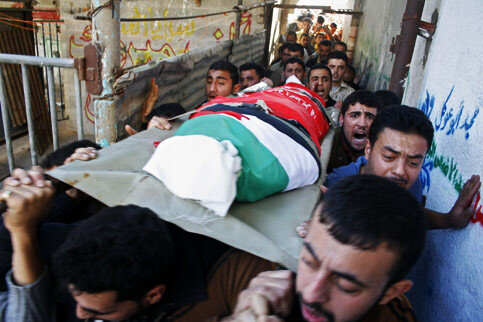 The Israeli Occupation Forces (
IOF
) have escalated their military attacks on the Gaza Strip, killing a Palestinian and destroying houses and other civilian premises. Meanwhile, Israel's tight blockade of the Gaza Strip has continued, resulting in an unprecedented deterioration of the humanitarian situation due to severe shortages of food, water, fuel and medical supplies. Daily power outages, which last for long hours in Gaza, have exacerbated this crisis.
According to Al Mezan's field investigations, at approximately 4:50pm on 17 December, the IOF gunships opened heavy machine gun fire towards Qleibo area, eastern al-Sheikh Zayid town, and the Talet al-Zaitoun area in Jabaliya refugee camp. The firing lasted for more than 15 minutes spreading panic in the area. Five minutes later, IOF fired a missile at the former area; however, no injuries were reported.
At approximately 8:50pm on the same day, IOF, stationed on the borderline east of Jabaliya, launched a ground-to-ground missile that exploded in the house of 47-year-old Salah Abdul-Hadi Oukal. The victim was in his house's garden in Tel al-Za'tar area in Jabalia when the missile struck him. Oukal, who was the breadwinner of a family of eight, including three children, was blown into pieces as the missile hit him directly. His seven-year-old son, Ahmed, was also lightly injured in the attack, which caused severe damage to the house and partial damage to three adjacent houses.
At approximately 5am today, 18 December 2008, Israeli aircraft fired two missiles at the house of Hassan Mohammed Abu Nasser, which is located in a dense neighborhood in Block 8 in Jabaliya refugee camp. The target is a simple house roofed with asbestos. Field investigations indicated that the two missiles struck the garage, destroying a Subaru. It also caused damage to the house and several other neighboring houses.
In Khan Younis city, south of the Gaza Strip, Israeli aircraft fired a missile at a car maintenance workshop at approximately 1:15am today. The workshop, owned by 35-year-old Iyad Fathi al-Jbour, was completely destroyed. No casualties were reported in this attack; however, seven neighboring houses and three cars were damaged.
Al Mezan Center for Human Rights strongly condemns the continuous Israeli aggression against civilians in the Gaza Strip. Missile attacks that target homes and civil premises represent a grave breach of the international humanitarian law and must stop immediately.
Al Mezan Center also condemns the Israeli blockade of the Gaza Strip, which represents a form of unlawful collective punishment of the Strip's population. The consequences of this blockade on civilians' well-being and human rights have been outrageous.
Al Mezan reiterates its calls on the international community to intervene without delay to ensure protection of the civilian population under Israel's occupation in the Occupied Palestinian Territories, and particularly in the Gaza Strip. Israel must respect its international obligations; especially as the warnings of military actions against Gaza by the Israeli army have been mounting during the past few days. The silence of the international community will only serve to encourage Israel to step up military operations, which, as experience shows, means killings of civilians and destruction of their property in Gaza.
Related Links