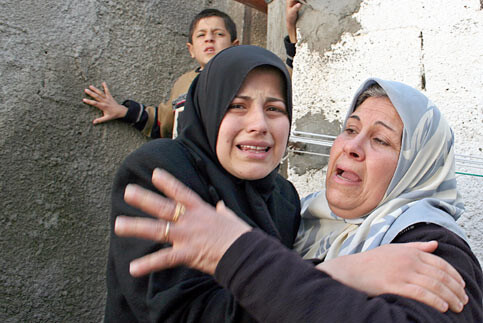 Israeli Occupation Forces (
IOF
) committed two extra-judicial executions in less than 8 hours, leaving two Palestinians in the Gaza Strip dead and a third dead in the West Bank. This raises the total number of extra-judicial executions committed by
IOF
in the past two days to 4, killing 8 Palestinians.
According to investigations conducted by PCHR, at approximately 20:00 on Monday, 6 February 2006, IOF positioned at the border between the Gaza Strip and Israel, east of Jabalya, fired an artillery shell at a civilian car (a white Hyundai), which was traveling on a dirt road near Hammouda fuel station, nearly two kilometers to the west of the border. The shell did not hit the car and members of the al-Aqsa Martyrs Brigades, the military wing of Fatah, who were traveling in the car escaped, apart from two who did not have enough time to escape as an IOF aircraft launched a second missile at the car. The two members were instantly killed: Hassan Mustafa 'Asfour, 25, from Beit Lahia; and Rami Khamis Hannoun, 27, from Jabalya refugee camp.
At approximately 04:00 on Tuesday, 7 February 2006, an IOF undercover unit moved into Nablus. Members of the unit surrounded the al-Ashqar apartment building in the Rafidya neighbourhood in the west of the city. Soon afterwards, at least 25 IOF vehicles, including a bulldozer, moved into the city to reinforce the undercover unit. IOF opened fire at a flat on the first floor and prevented ambulances from entering the area. At approximately 11:15, IOF withdrew from the area and ambulances evacuated a body from the targeted flat to Rafidya Hospital. The victim was identified as Ahmed Suleiman Raddad, 32, from Saida village near Tulkarm, a leader of the al-Quds Brigades, the military wing of Islamic Jihad. According to medical crews, he was hit by at least 15 live bullets to the head, the right shoulder and hand. PCHR's field worker in Nablus, who saw the victim's body, reported that the face was severely injured. It is worth noting that Raddad survived an attack on 5 February 2006, when IOF set an ambush targeting him on the road linking Balata and 'Askar refugee camps, east of Nablus.
PCHR strongly condemns these latest crimes and asserts that such crimes by IOF increase tension and threaten the lives of Palestinian civilians. PCHR calls upon the international community to meet its responsibilities, and calls particularly upon the High Contracting Parties to the Fourth Geneva Convention of 1949 to fulfill their obligations under the Convention to ensure protection for Palestinian civilians in the Occupied Palestinian Territory.
Related Links