The settlement Psagot built on occupied and confiscated Palestinian land overlooking Ramallah. On March 4, 2002, Israeli tanks stationed at Psagot shelled two Palestinian civilian cars, killing mother of three, Bushra Abu Quaik, her three children Mohammad (9), Baraq (14), and Aziza (17), and two other children, Arafat Khalil Masri and Shayma Masri both aged 7.
View video [0:20 mins, Quicktime file,

840KB

]

Camera and Editing: Arjan El Fassed



---
SCREENSHOTS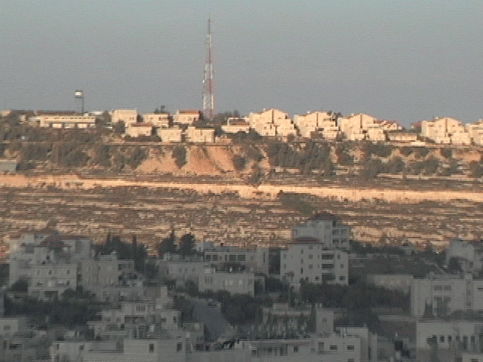 The area surrounding the Palestinian town Ramallah consists of 60,000 settlers, who live close to the original Palestinian population of 300,000. It covers 1,100 sq km and has 60 settlements, plus 470km of roads. The distance between Psagot and the nearest house in Palestinian-controlled Ramallah is just 10 metres. Although about 1,000 settlers live here, anyone can see that its purpose is strategic: Psagot means "summit" in Hebrew, and it dominates Ramallah. This footage was taken by

EI

's Arjan El Fassed on September 6, 2002, from a rooftop located in the Masyoun neighborhood in Ramallah.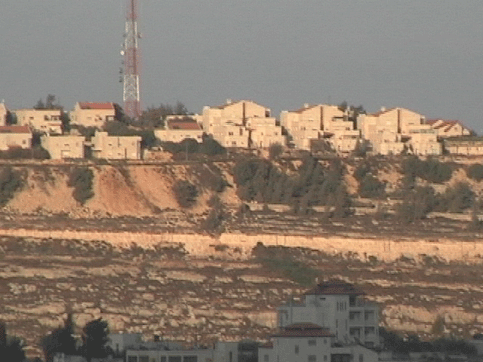 Related Links:
Psagot dispatch: The summit of Middle East tension, Brian Whitacker, The Guardian, 3 September 2001
Watching from on high as Israeli guns keep firing, Robert Fisk, The Independent, 1 April 2002
Settlers and trash, Walid Hamad, 5 November 2002
'Independence' day: the view from Ramallah, Adam Hanieh and Catherine Cook, Live from Palestine, 16 April 2002
Settlements are built on 1.7% of West Bank land and control 41.9%,

B'T

selem, 13 May 2002