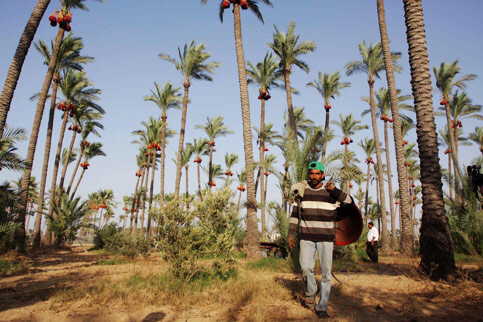 Recently, Israel announced that it would import palm fronds from the Gaza Strip for the Jewish holiday of Sukkot. The move came at the behest of Minister of Religious Services, Yakov Margi, who feared that a shortage of palm fronds and a local monopoly on the item would send prices skyrocketing for the Jewish holiday, which came in early October this year.

Before the holiday, palm fronds are in high demand as religiously observant Jews build thatched huts that commemorate the 40 years that, according to Biblical tradition, the ancient Hebrews wandered the desert. Once Sukkot begins, however, palm fronds are no longer needed.

Initially, the decision to allow Gaza to export palm fronds seemed like an easing, however small, of the Israeli siege. But according to Gaza's farmers, exporters and the Israeli non-governmental organization Gisha, it wasn't.

The announcement came just three days prior to Sukkot. Because palm frond farmers in Gaza have not been able to export their crop since the blockade began in 2007, they were surprised by the decision and were left with insufficient time to harvest, dry and sell their product.

Kamel Aklook is a 43-year-old trader from Deir al-Balah in the central Gaza Strip. "In the beginning, I was happy to hear [Israel's decision to import palm fronds from Gaza]," Aklook said, explaining that he heard about it on Al-Jazeera. "I called my clients in Israel. And then I realized there was no time."

Aklook believes that the announcement was only intended to bring the prices of palm fronds down. "It was a political decision, just for show," he said, pointing out that Israeli Defense Minister Ehud Barak was under pressure from rabbis to break the local monopoly and lower the cost for Jewish consumers.
Before the siege, Aklook exported palm fronds from Gaza to Israel for more than 20 years. Aklook, his wife and their 12 children enjoyed the fruits of a brisk business with Jewish partners.

The first year of the blockade, Aklook suffered a $55,000 dollar loss and he was forced to throw the unsold palm fronds away. Now he is not working and relies on the UN agency for Palestine refugees (UNRWA) to feed his family, something he finds humiliating. "To ask for help from anyone, except for God, is dishonorable," Aklook says.

Jibreel Baraka, a 40-year-old palm frond farmer from Deir al-Balah, told a similar story. "In 2007," he said, "I prepared 4,000 units for delivery but I didn't get a permit and they went to waste."

When palm frond season came this year, Baraka didn't bother harvesting as he had no expectations of selling it. And the Israeli move to import palm fronds from Gaza didn't offer any hope, Baraka explained, as it would have taken him at least a week to prepare the crop for export.

Though business was good before the blockade, Baraka is now a subsistence farmer. Still, he worries about his ability to feed his wife and their 13 children. The vegetables they live off of aren't growing well, he said.

The troubles facing palm frond farmers and exporters underscore the devastating effects of the blockade on the whole of the Gaza Strip's agriculture industry. In 2008, the second season impacted by the Israeli closure, Oxfam estimated that Gaza's farmers alone took a $6.5 million hit.

Zachary Hijazi, a carnation farmer, says that he has lost between $9,000 to $10,000 dollars per dunam (the equivalent of 1,000 square meters) of land annually since the siege began.

In 2007, he cultivated and harvested his flowers in hopes of exporting them to Holland, as he had in years past. But in the end, Hijazi couldn't get his product to market. Like other farmers, he was forced to throw the flowers away or feed them to livestock.

In 2009, with assistance from the Dutch government, Gaza's carnation farmers, Hijazi included, managed to export just more than half a million flowers to Holland. While Hijazi appreciated the help of the Dutch, he pointed out that before the blockade Gaza's carnation farmers exported 60 million flowers annually. The trickle of flowers that made it out wasn't enough.

Israel's attacks on Gaza last winter made an additional impact on Hijazi's business; the irrigation pipes were damaged and he was forced to repair them. This is a serious problem facing many of Gaza's farmers; the Palestinian Central Bureau of Statistics reports that the Israeli incursion inflicted $170 million of damages to the Gaza Strip's agricultural infrastructure and land. The Palestinian Ministry of Agriculture predicts that the agricultural industry will be impacted by an additional $88 million of indirect losses attributable to the bombardment.

Hijazi is now deep in debt due to three failed seasons. And he believes that the world has forgotten about the people in the Strip.

Ahmed Surani, spokesperson for the Palestinian Agricultural Relief Committee in Gaza, is not only concerned about the economic impact of the blockade. The widespread feelings of hopelessness are worrisome, too. "We feel like we are in a jail," he said. "We are compressed from all sides."

Fishermen can't access the Israeli-controlled Mediterranean Sea. And Israel has stepped up its patrol of the buffer zone, which eats up approximately 25 percent of Gaza's agricultural land.

Surani points out that this tight control of Gaza's borders hinders more than exports; it also poses an obstacle to subsistence farming and fishing. Due to the buffer zone, farmers who ordinarily would be able to grow food for their families are severed from their land and must rely on international aid instead, said Surani. Meanwhile, their fields lie fallow.

The total devastation of Gaza's agricultural sector, which prior to the blockade generated nearly 10 percent of the Strip's GDP, has serious implications for the future. "It affects the possibility for a viable Palestinian state," Surani said.

Rehabilitation and reconstruction of the agricultural industry is crucial, according to Surani. Borders must be opened so palm fronds, carnations and Gaza's other agricultural goods can be exported. The buffer zones must be dissolved so farmers can access their land.

Creating jobs and sustainable activity, Surani said, "gives hope to the people."

Sari Bashi, director of Gisha, remarked, "The palm fronds are just one example of the potential for mutual benefit — currently stymied — in allowing farmers in Gaza to import raw materials and to export their produce to Israel, the West Bank and third[-party] countries. It is not clear how Israeli security is enhanced by preventing Gaza residents from exercising their right to engage in dignified work."

Mya Guarnieri is a Tel Aviv-based journalist and writer and a regular contributor to The Jerusalem Post. Her work has also appeared in Outlook India —- India's equivalent to and subsidiary of Newsweek —- as well as The National, The Forward, Maan News Agency, Common Ground News Service, Zeek, The Khaleej Times, Daily News Egypt and other international publications.

Wael Kubtan contributed to this article.