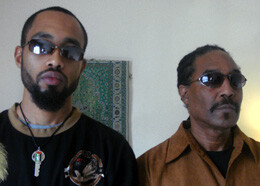 The following press release was issued by Al-Awda New York, the Palestine Right to Return Coalition on 25 November 2009:
Al-Awda New York, the Palestine Right to Return Coalition, condemns the racist denial of entry to Palestine of African American political activists Dhoruba Bin Wahad and Naji Mujahid by the Israeli occupation.
The occupation of Palestine has always been based on the racist theory and practice of Zionism, including the expulsion of hundreds of thousands of Palestinians and the denial of millions of Palestinian refugees' right to return home as part of building a "pure Jewish state" through the dispossession and oppression of the indigenous Palestinian Arab people.
Zionism and racism have always gone hand in hand — the Israeli occupation regime was one of the greatest military sponsors of the South African apartheid state. US racism has sponsored and encouraged Zionist racism. This reality has made itself quite apparent in the denial of entry to Palestine, abuse and detention of Bin Wahad and Mujahid.
On 23 November 2009, Dhoruba Bin Wahad, a former US political prisoner and leader of the Black Panther Party, and Naji Mujahid, a student activist from Washington DC rode tourist bus en route from Amman, Jordan to the to the West Bank of occupied Palestine, where both had been invited to attend the International Conference on Palestinian Political Prisoners in Jericho that was sponsored by the Palestinian Authority Ministry of Prisoners and ex-Prisoners Affairs.
As the bus crossed the bridge that connects Jordan with the West Bank of occupied Palestine, it stopped for a border inspection by Israeli occupation officers. Of the numerous individuals on the bus, only Dhoruba and Naji were ordered to disembark. Significantly, both were the only Black people on the bus.
The border officers searched Dhoruba's name on the Internet after they had been pulled aside from the rest of the tourists, who passed without incident. They discovered that he is Muslim, a former Black Panther leader and someone who spent 19 years in prison for a crime he did not commit. (Dhoruba, a target of COINTELPRO, was arrested in 1971 and sentenced to life in prison. His conviction was overturned in 1990.) Both Dhoruba and Naji were interrogated, strip searched and their property confiscated and searched. Despite their cooperation and offer to return into Jordan, their detention continued for over 12 hours. They were ultimately released but denied permission to enter occupied Palestine and returned to Jordan.
The treatment accorded to Dhoruba and Naji would be outrageous if it occurred to anyone, and echoes the ongoing abuse of Palestinians and Arabs seeking to enter Palestine and the drive to push Palestinians and Arabs to leave their homeland through settlement, land confiscation, checkpoints, the Israelization of Jerusalem, discrimination and laws targeting Palestinians in occupied Palestine '48. As Naji Mujahid himself stated, "the humiliation and frustration that we endured was a small taste of what we can be sure the Palestinians go through on a daily basis."
It is apparent that this incident occurred as a clear manifestation of Zionist racism. Dhoruba and Naji were ordered off the bus before Israeli border officials had any idea of their country of origin, personal histories, or plans to attend the conference on political prisoners. At the time they were targeted, the occupation officers knew only that they were Black.
The racist actions of the Israeli government prevented critical meetings between former US political prisoners and former Palestinian political prisoners from taking place. Furthermore, it was an attempt to deny the Black community in the US news about Palestine — both Dhoruba and Naji had arranged to do a series of reports for Black community news outlets about the conference, Palestinian political prisoners and the Palestinian liberation struggle.
Al-Awda New York expresses its outrage over this latest incident of Zionist racism, we join in the demand of Dhoruba and Naji's attorneys that the US State Department protest the treatment of Dhoruba Bin Wahad and Naji Mujahid. We salute these strong and determined freedom fighters in the Black community and pledge that we will only continue and intensify our collective struggle against racism and oppression, from the US to Palestine.
The Palestinian community and the Black community face common enemies in Zionism, racism and imperialism, and we stand together to demand freedom for all political prisoners from the US to Palestine, an end to Zionism and racism, and the full liberation of all of our communities and all of our people!
Related Links