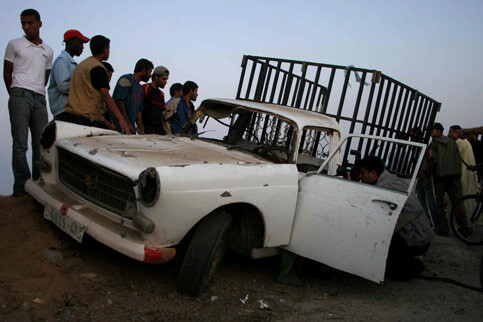 The Israeli Occupation Forces (
IOF
) carried out a series of attacks against targets in the Gaza Strip since Wednesday 16 May 2007 killing fourteen Palestinians and injuring 81. Israeli tanks and ground troops stormed into several areas in the north and east of the Strip. Threats of aggressive, painful attacks, and cutting-off electricity and water, by Israeli government and army officials have been mounting. This escalation has increased as soon as a ceasefire between Palestinian factions came into effect last night. Israel says it retaliates to barrages of home-made projectiles on its southern towns, which left some 40 Israelis injured. Palestinian civilians have become victims of both internal fighting and Israeli military attacks.
Al Mezan's field workers reported that at approximately 1:37 pm Wednesday 16 May 2007, Israeli fighter jets bombarded an Executive Force installation in Rafah, south of the Gaza Strip, killing three and injuring 27. Medical sources said four were in critical condition. The attack came at the lunchtime when the installation was most crowded.
At 7:25 pm also Wednesday, an Israeli drone fired a missile at a group of Palestinian youths east of Jabalia killing two and injuring three. At 9:30 pm on the same day, Israeli helicopter gunships opened heavy fire at open areas and fields eastern Jabalia and Bait Hanoun; both in the north of Gaza. No injuries were reported.
At 9.30 am Thursday, 17 May 2007, eight Israeli tanks stormed into eastern Jabalia under the cover of helicopter gunships and took positions about half a kilometer inside the Gaza Strip. At approximately 11:15am, they opened fire and shelled a national security installation in Jabalia. No casualties were reported.
Field reports indicate that Israeli marine forces have also been actively patrolling the Gaza coast. They fired at fishing boats in Khan Younis and prevented them from fishing. No casualties were reported.
at approximately 2:10 pm Thursday, 17 May 2007, Israeli jet fighters fired a missile into an installation of the Executive Force, which is located in Tareq Ibn Ziad St. near Palestine Stadium, destroying the building and causing damage to numerous neighboring houses. One of the Executive Force members was killed and 21 people were injured, mostly civilian passers-by and residents of the neighboring houses.
At 6:10 pm also Thursday, Israeli helicopter gunships fired missiles at a car in Jala' St. in Gaza City. The driver, Emad Shabana, sustained critical wounds and five passers-by were injured.
Thirty minutes later, Helicopter gunships fired missiles into a caravan used by the guards of the Ministry of Interior's spokesperson, Khalid Abu Hilal, in Gaza City killing one guard and injuring four.
At 7:10 pm Thursday, Israeli helicopter gunships fired two missiles at a civilian car and a dump in Rafah killing two of the sons of Lulahi family and wounding four: the father, two daughters and a boy. It was reported that Salman Al Lulahi, who works as a guard of the municipal dump for the Municipality of Rafah, was with his family at the site. The first missile hit the two 13-year-old and 18-year-old sons and killed them. As the father and the other daughters and son approached them to help, a second missile hit them injuring the father and his two daughters and child son.
At approximately 2:30 am Friday, 18 May 2007, Israeli helicopters fired three missiles at a group of Palestinians in Shajaiya area, east of Gaza City, killing five and injuring six. Eyewitnesses told Al Mezan that IOF fired a first missile and once people hurried to aid the injured, fired another two killing and injuring more people. Medical sources reported they were able to reach the injured one hour after the attack as the helicopters fired at them each time they tried to approach them.
IOF also fired missiles and artillery shells at several open areas in the east of the Gaza Strip. In one attack, missiles hit an open area south of Deir Al Balah refugee camp. No casualties were reported. As of Friday noon, fourteen Palestinians have been killed and 71 injured. The casualties are:
1. Najih Khalil Abu Fakher, aged 32;
2. Hammad Hassan Mibred, aged 23;
3. Lutfi Al Barahmeh, aged 28;
4. Rami Subhi Zaqzouq, aged 30;
5. Muhammad Zawzan Zyadeh, aged 23;
6. Muhammad Abdullah Al Ghifari, aged 21
7. Tal'at Al Abid Haniya, aged 30;
8. Muhammad Salman Al Lulahi, aged 13;
9. Yousif Salman Al Lulahi, aged 18;
10. Ahmad Rushdi Siyam, aged 30;
11. Ahmed Salih Siyam, aged 28;
12. Salih Jouha; aged 30;
13. Waleed Al Hajeen, aged 29;
14. Hatim Shaban Al Amareen, aged 25.
This Israeli military escalation against Gaza comes amidst a prolonged, continued siege prohibiting the mobility of Gaza's people and commerce goods. It also comes amidst continued sanctions where Israel has withheld tax and custom monies and the international community halted all kinds of aid to The Palestinian National Authority (
PNA
). These sanctions have created serious human rights violations and caused devastating suffering to civilians; especially the most vulnerable.
Al Mezan Center for Human Rights condemns the Israeli escalation of military aggression. The Center warns from a wide-scale operation in Gaza, which will bring serious consequences and violations of civilians' human rights. As an Occupying Power, Israel is bound by the provisions of international humanitarian law (IHL) and must observe the principles of military necessity, distinction and proportionality, which prohibit targeting civilian objects or use of excessive force. Israel also bears the ultimate responsibility for the civilians under its occupation in Gaza and must attend to their basic needs.
Al Mezan calls upon the international community to immediately intervene and prevent further Israeli violations. The international community is also called to bring to an end its sanctions against the PNA and to pressure Israel to release Palestinian assets. This is crucial as the levels of poverty rise and access to crucial services is declining in Gaza. It is also necessary to release the internal tension and lack of security in the Gaza Strip.
Related Links