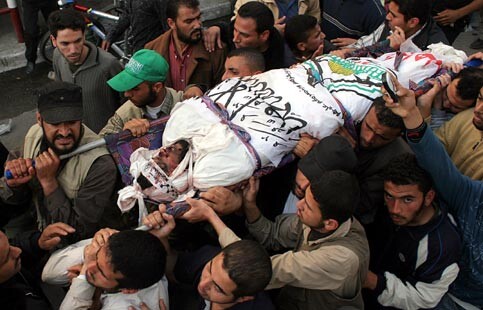 On Friday evening, 7 April 2006, Israeli Occupation Forces (
IOF
) committed an extra-judicial execution in Rafah, which left dead 4 members of the Popular Resistance Committees and a child. The child was accompanying his father, who was the main target of this attack. This latest crime comes in the context of recent escalation by
IOF
throughout the Gaza Strip, as
IOF
have intensified the bombardment of Palestinian civilian populated areas and facilities using warplanes, gunboats and tanks. They have also continued to impose a tightened siege on the Gaza Strip through closing all border crossings between the Strip and Israel.
According to investigations conducted by PCHR, at approximately 21:05 on Friday, 7 April 2006, IOF aircrafts launched 3 missiles at a civilian car (red Seat), which stopped at the gate of a training site belonging to the Popular Resistance Committees in al-Mawasai area in Rafah. The missiles hit the car when 3 members of the Popular Resistance Committees, including Eyad Mohammed Abu al-'Einein, 33, a leader of the Committees, were about to get into the car. Abu al-'Einein was accompanied by his two children: Bilal, 5; and Mohammed, 14. Abu al-'Einein, his child Bilal and one of his bodyguards, 'Aadel 'Abdul Karim Sha'at, 24, were instantly killed. Shrapnel from the missiles also killed two others members of the Popular Resistance Committees who were near the gate of the site: Bassam Ahmed Hussein, 23; and Ibrahim Nafez al-'Aaloul, 23.
In addition, 6 other persons, including two children, were injured. Medical sources described the injuries of 4 of them, including Abu al-'Einein's child Mohammed, as serious. IOF admitted responsibility for the attack.
PCHR strongly condemns this latest horrible attack, which clearly aimed at causing maximum casualties among Palestinians. PCHR is gravely concerned over the Israeli escalation in the Occupied Palestinian Territory (OPT), especially in the Gaza Strip. PCHR asserts that such crimes serve to escalate to the cycle of mutual violence in the area. PCHR calls upon the international community to immediately intervene to stop such crimes, and reiterates its calls for the High Contracting Parties to the Fourth Geneva Convention of 1949 to meet their obligations to ensure protection for Palestinian civilians in the OPT.
Related Links