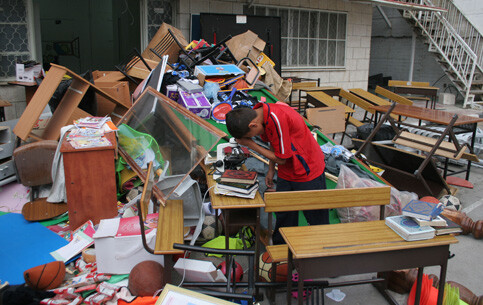 PCHR
strongly condemns Israeli Occupation Forces (
IOF
) for closing several charities and humanitarian organizations in Nablus over the past two days. The Centre calls upon the international community to intervene to put an end to these measures.
The Center's preliminary investigation indicates that at approximately 1:35 on Monday, 7 July, IOF raided the Benevolent Solidarity Association, the Islamic School for Girls, Benevolent Solidarity Club, Solidarity Mosque, and Solidarity Medical Center in Rafedia Quarter west of Nablus. IOF confiscated medical equipment and computers from the medical center. In addition, IOF issued an order closing the association for three years. The order was signed by the Israeli army commander in the West Bank.
At approximately 1:00 on Tuesday, 8 July, IOF raided several organizations affiliated with Hamas. IOF closed seven organizations for two years. IOF claimed that these organizations were used to "finance terrorist organizations." The organizations that were closed are: Nablus Mall (owned by the Development, Investment, and Insurance Company), Nafha Association for Prisoners' Affairs, Federation of Islamic Trade Unions, Scientific Medical Association, Yazour Benevolent Society, Basma Association and Graduates Cultural Forum.
PCHR's fieldworker obtained a copy of the military order closing the Nablus Mall that was dated 6 July and signed by Gadi Aluf, Israeli army commander in the West Bank. The order states, "Based on the jurisdiction granted to me under articles 120, 84, 129 of the Defense Regulations (State of Emergency) for the year 1945 … I hereby order the confiscation of all properties of Beit al-Mal Arab Palestinian, LTD that is also known as the Development, Investment, and Insurance Company, including the real estate known as the Nablus Commercial Center (Nablus Mall). Ownership of the property and all its equipment is directly transferred to the Israeli Defense Forces with immediate effect. The administration offices of the Nablus Commercial Center and all unrented property is closed for two years starting with the date of receiving this order. Any person wishing to object to this order can submit a written complaint through the Legal Advisor for Judia and Samaria within 14 days from receiving the order."
It is noted that the Israeli Defense Minister, Ehud Barak, signed this week an order closing 36 charities worldwide under the pretext that they are illegal for being members in the "Zakat Federation" that collects money for Hamas. The Israeli newspaper Haaretz indicated yesterday that Israeli security forces will escalate their war on the Hamas infrastructure in the West Bank, and that the military leadership plans to close a large number of associations and charities and confiscate their property under the pretext that they are affiliated with Hamas.
PCHR strongly condemns these arbitrary measures that constitute a form of collective punishment that is banned by international humanitarian law. The Centre calls upon the international community to intervene and put an end to these measures, especially since the targeted organizations provide humanitarian assistance to needy Palestinian families during these times of increased poverty.
Related Links