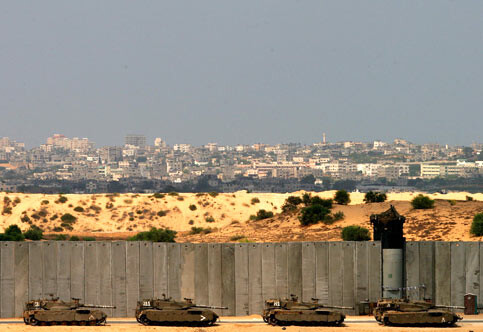 Ma'an-Gaza (2:
38PM
) — Widespread Israeli incursions and air strikes in the Gaza Strip have killed at least nineteen Palestinians in less than 24 hours.
The latest strike on Beit Lahiya in the north of the Gaza Strip on Thursday afternoon has killed at least 12 Palestinians and injured over forty. At least three of the injured are said to be in a critical condition. With this, the number of Palestinians killed in the Strip in the last 18 hours has increased to 19, and the number of injuries is currently in the fifties. Many of these are civilians, women and children.
Medical sources said that the casualties were transported to various hospitals in the Strip in spite of the current disruption of electricity which makes the treatment of these casualties critical and difficult.
The public relations director of Ash Shifa'a hospital in Gaza City, Dr Jum'ah As Saqqa, said that the hospital has received five Palestinians killed in the incursion and many injuries.
Eyewitnesses said that another Palestinian was killed and transported to Kamal Adwan hospital. Dr Said Joudah of Kamal Adwan said that his hospital received two Palestinians killed in the Israeli strikes.
Projectiles land in Israel
The recent escalation in events began when, on Wednesday evening, two homemade projectiles landed in the southern Israeli city of Ashkelon. The Izzeddin Al Qassam Brigades, the military wing of Hamas, claimed responsibility for this second attack on Ashkelon in 24 hours.
Israeli sources reported that eight Israelis, including four children, were taken to hospital for shock but no injuries or casualties were reported.
It was also reported that a projectile fell in the Zikeim region near the city of Ashkelon causing a fire in a forest.
Then on Thursday, the Al Qassam Brigades fired another missile at Ashkelon, hitting an electricity power station. This was considered to be in direct response to the Israeli strike on Gaza's only electricity plant last week which has plunged the Strip into darkness and led to grave sanitation and humanitarian concerns.
Retaliation?
The massive Israeli strikes on Gaza were stepped up and were continuous throughout the night and into Thursday. The whole range of Israeli military aircrafts has been seen in Gaza's skies: reconnaissance jets, drones, jets and helicopters.
Israel claims to be targeting the projectile-launchers .
The Israeli Minister of Defense Amir Peretz said that "the Israeli forces will direct their strikes at terrorist elements, especially Hamas at any time and anywhere".
Peretz added that "the Israeli forces will not dive into Gaza's mire but they will enter any area necessary to carry out their tasks".
Meanwhile, the head of the Arab press department in the Israeli Foreign Ministry, Amira Oron, said "that her country cannot sit on its hands regarding the military operations that were carried out by Palestinian terrorists".
Oron added that the decision to expand military operations came as a result of the increasing number of attacks against Israel.
Or re-occupation?
On Wednesday evening, two media workers were injured by Israeli fire while covering the heightened events in the Gaza Strip. The Israeli forces fired at a civilian car on the edge of Beit Hanoun in the northern Gaza Strip, injuring Muhammad Kafkin and Osama Al Kafarnah, a sound technician and a driver for a local press agency.
On Thursday morning, renewed Israeli air strikes targeted the northern part of the Gaza Strip. Abdullah Zamir, reported to be a leader of the Hamas-affiliated Izzeddin Al Qassam Brigades, was killed in an early strike. A number of other Palestinians were also injured when Israeli warplanes renewed their bombardment of the northern Gaza Strip and Israeli helicopters fired with heavy machine guns at residents' houses in the town of Beit Lahiya.
By mid-afternoon on Thursday, the number of Palestinians killed by Israeli missiles had reached seven. Israeli fighter jets bombarded the north while ground troops, reinforced with tanks and other military vehicles, invaded many parts of the Strip. The Israeli troops completely occupied a band of land in the northern Gaza Strip close to the border with Israel. This band includes three former Israeli settlements, Elai Sinai, Dugit and Nisanit, which were destroyed during the Israeli military withdrawal from the Gaza Strip almost a year ago. Israel withdrew settlers and troops from the Gaza Strip in August 2005 but kept control of Gaza's borders, sea and air space. The settlements, which were all illegal under international law, were evacuated and mostly dismantled prior to withdrawal.
The Israeli military claims that Palestinian projectiles are being launched from these deserted settlements.
Fierce fighting broke out on Thursday in many areas in the northern Strip including Jabalia, Beit Hanoun and Beit Lahiya. It is reported that from time to time, the Israeli forces withdrew in order to encourage the Palestinian fighters to venture into the streets where they were then exposed to Israeli sniper fire.
Israeli soldiers shot and killed 20-year-old Muhammad Al Attar, from Al Atatrah, a town in the north of the Gaza Strip, on Thursday afternoon.
Israeli bullets struck down another Palestinian in Deir Al Balah in the central Strip.
Israeli fighter jets also launched three missiles at the As Sudaniya region in the northern Gaza Strip, killing another alleged activist of the Hamas-affiliated Al Qassam Brigades, Osama Hijazi. Israeli troops also penetrated this area, accompanied by tanks and bulldozers, causing widespread damage to local residents' lands.
After just a few minutes, the Israeli jets then bombarded the Palestinian navy police station, killing a Palestinian policeman, Rami Abu Hashim, and injuring another 9. Three were seriously wounded.
It is also reported that an Israeli air strike on Khan Younis in the southern part of the Gaza Strip has killed another two Palestinians. Israeli helicopters shot machine gun fire at residents' houses near Gaza's unused and destroyed, Arafat International Airport in Rafah and tanks and bulldozers rolled into the Al Farahin area, destroying swathes of Palestinian agricultural land.
The Al Qassam Brigades reported on Thursday afternoon that they had launched one homemade projectile at an Israeli tank stationed in Al Atatrah square in the west of Beit Lahiya in the northern Gaza Strip.
The Salah Addin Brigades, the military wing of the Popular Resistance Committees (PRC), claimed to have killed one Israeli soldier in the northern Gaza Strip on Thursday afternoon and there are unconfirmed reports of another Israeli soldier being injured by a bullet to his head.
Related Links
BY

TOPIC

: Israel invades Gaza (27 June 2006)
Ma'an News Agency (Ma'an means 'together' in Arabic) is a Palestinian on-line News agency that publishes up-to-the-minute news in Arabic, English, and Hebrew. Ma'an News Agency (MNA) began operation in December of 2004 and is one of the main projects of the Ma'an Network which was established in 2002 as a non-governmental organization that aims to improve local Palestinian media production. Ma'an Network (Ma'an) is composed of nine independent TV stations and production studios located in each major city of the West Bank and Gaza.