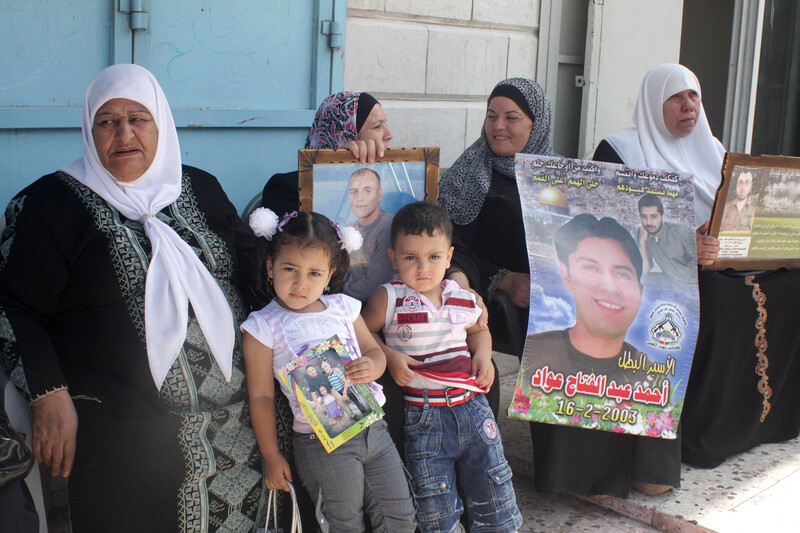 The latest Israeli administrative detention order against Palestinian nurse and ambulance officer Ayed Dudeen — issued only two months after Dudeen was released from almost four years spent in Israeli custody without charge — has once again highlighted the destructive and harmful impact that this Israeli policy has on Palestinian families.
"It is horrible because you don't know your head from your toes," said 20-year-old Hamza Ayed Muhammad Dudeen, Ayed's eldest child. "At the beginning our hope rises that at any minute he will be released, but this hope fades away when the number of consecutive extensions [of administrative detention] reaches ten or 11."
Administrative detention is the detention of a person without charge or trial, and is authorized by an administrative — not judicial — order. A law student at Palestine Al-Ahliyya University in Bethlehem, Hamza explained that the varying lengths of the administrative detention orders his father received during his four years in prison made it impossible for his family to prepare for his possible release.
"What is really funny is that each time differs from the other in time length. Sometimes the extension could be for six months and in other times it could be four, and in other cases it could be for two months. There is no logic. It only breaks us," Hamza, who lives in the Southern Hebron area of the occupied West Bank with his mother and five younger siblings, said.
His father's latest arrest on 9 August — and subsequent administrative detention order, issued on 25 August — has been especially painful, he added.
"During all [my father's] imprisonment time, the impact on little [five-year-old] Muhammad was the most salient. He grew all the time knowing that our father is in prison, and when my father was released, it was actually the first time for him to see him. [It was] something I don't believe he could comprehend," Hamza told The Electronic Intifada.
"The older brothers and sisters, despite [the fact that] we learned to get used to my father's absence, we were connected to him this time [he was released] more than before. This time, it was the hardest. He was released and devoted all his time to us and to work during these two months [that he was out of prison]."
British Mandate laws still in place
Israeli military and civil laws related to the policy of administrative detention are based on the country's Emergency Law of 1945, which was instated during the British Mandate of Palestine, before the creation of the Israel, and is still in place today.
In the West Bank, which is governed under Israeli military laws, Military Order 1226, issued in 1988, allows Israeli army commanders to detain Palestinians living in the West Bank for up to six months if they have "reasonable grounds to presume that the security of the area or public security require the detention."
Military Order 1591 [PDF], which was issued in 2007, also states that the initial administrative detention order can be extended for additional six-month terms if "the military commander has reasonable cause to believe that reasons of security of the region or public security still require the detention of the detainee."
These six-month administrative detention terms can be renewed indefinitely. "Israel never stopped using the administrative detention tool as an [oppressive tool] against the Palestinians and of course, they use it much [more] when there's political tension and special circumstances," explained Sahar Francis, the Director of Addameer, the Ramallah-based prisoner rights group.
B'Tselem, the Israeli Information Center on Human Rights in the Occupied Territories, estimates that as of July 2011, Israel held 243 Palestinians under administrative detention in facilities run by the Israel Prison Service (IPS).
Under international law, states may use administrative detention only in instances whereby the safety and security of the state is threatened. Article 78 of the Fourth Geneva Convention, for instance, states that "if the Occupying Power considers it necessary, for imperative reasons of security, to take safety measures concerning protected persons, it may, at the most, subject them to assigned residence or to internment."
According to Francis, Israel's use of administrative detention orders violates these conditions, insomuch as it is used in instances that don't constitute a clear threat to the security of the state. "Israel is violating the international law standards for detention without specific charges," she said.
"From the point of view of the detainees, you don't know when you will be released, and neither does your family. It's a very hard psychological situation that you are detained without knowing why you are detained or when you will be released. I think that administrative detention is a collective punishment, not just against the detainee himself, but a collective punishment on the family because of this psychological effect."
In and out of Israeli custody
Ayed Dudeen was arrested for the first time in December 1992 and held in a Hebron-area prison that at the time was still run by the Israeli authorities. According to Addameer, "during his detention, Ayed was deprived of sleep on a regular basis and often forced to sit in the interrogation room with his hands tied behind his back for several hours at a time" (Information about Dudeen on the Addameer website).
Only six days after his release in March 1993, the Israeli military raided the Dudeen family home and re-arrested Ayed, this time on suspicion that he was forming a military cell. After 75 days of interrogation and inhumane treatment, he was sentenced to one year in prison.
In 1998, Dudeen was arrested again and held in Jerusalem's Russian Compound prison facility for over four months on suspicion that he had harbored a fugitive, an accusation he consistently denied. This time, he was sentenced to seven years in Israeli prison. Shortly after his release, Dudeen was again taken into Israeli custody and he spent 22 months in administrative detention before being released without charge.
In October 2007, Israeli soldiers and intelligence officers raided Dudeen's home at 2:30am, arrested him and placed him under administrative detention, under which he remained for three years and eight months. At the time of his imprisonment, he was the longest-serving administrative detainee.
"Over the course of his detention, Ayed's administrative detention orders were renewed a total of thirty times, meaning that his detention was extended every two months on average," Addameer found.
Despite the fact that the specific evidence against Ayed Dudeen remains secret, Sahar Francis said that Ayed has been targeted because he is suspected of being affiliated with Hamas and is viewed as a political leader in the West Bank.
"The reasons why he's targeted by the Israelis [is that they] claim it's for security reasons and they consider him a Hamas activist. Lately, they were targeting lots of Hamas leaders, and Hamas activists, because of the issue of Gaza and the escalation — bombs and military activity — that took place in the Gaza area in the last month," Francis said.
"I assume that this is part of this campaign to target public leaders and figures [so that] they can affect the political opinion and the Palestinian people's opinions in the future."
Family continues to suffer
For Hamza Dudeen, his father's detention means that he must take on additional responsibilities and help his mother take care of the younger children in the family.
"People at my age live their life differently: they have more flexibility to move, to travel, to hang out, or to study comfortably. Before I go to university every day, I make sure that every one of my siblings arrives to his school or my mother to her workplace. I am responsible for my five-year-old brother and the rest," he said.
"My father's release [in June 2011] took off a lot of responsibilities that she and I managed to handle all that time. My mother is a teacher, and she was relieved when my father was released because she [used to be] worried all the time about leaving the house. It is difficult at the beginning to get used to his absence again."
Still, Hamza said that since his father was only out of Israeli custody for two months this summer and therefore couldn't have been involved in any activities that could merit his re-arrest, he remains hopeful that he will be released soon.
"Definitely I was surprised [that he was re-arrested]. He was surprised as well. When he saw the soldiers entering the house he was telling me: 'No, no, don't worry. They came to search the house maybe or to ask me for a final investigation like after each time I'm released,'" Hamza recalled. "I don't know what is going to happen. I am optimistic because I know my father wasn't involved in any activity, especially during the last two months. What will happen is something in God's hands."
Tags