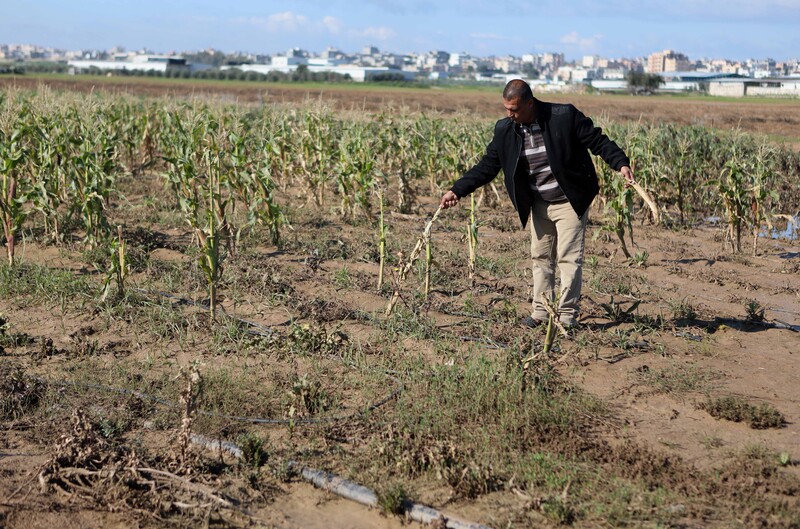 Ibrahim was working on a farm when he saw an Israeli aircraft approach. As the aircraft got nearer, Ibrahim noticed that a liquid was being sprayed from it. He was immediately worried that the crops he had planted would not survive.
"This is the fourth time that the farm has been sprayed with herbicides during my time working on it," the 45-year-old said. "After every spraying, the crops have withered and died."
The damage caused by the spraying – which occurred in April – has meant that Ibrahim is now out of work and without an income.
The damage is likely to have long-term repercussions for the farm. After each herbicide spraying "we have to uproot the crops and try to replace the surface soil in order to revive the land," said Ibrahim, who requested that his full name would not be used.
The farm is located in al-Shujaiyeh, a neighborhood east of Gaza City. Its crops include tomatoes, zucchinis, eggplants and lettuces.
Israel's herbicide offensive damaged 145 acres of farmland in the east and north of Gaza last month. More than 90 farmers experienced financial losses as a result.
"Destruction of our future"
Nidal Hamad, 30, was on a farm in al-Bureij, an area in central Gaza, when the spraying occurred. He estimates that an Israeli aircraft came as close as 20 meters to the ground.
"The Israeli army does not know how much we suffer after each spraying," Hamad said. "We see the destruction of our future in this process. I do not know why we scare them. They know perfectly well that we are farmers, that we cultivate the land in order to gather the crops and then sell them. Does that make us terrorists?"
Nabil Abu Rudeina, a farmer in Johr al-Deek – an area south of Gaza City – incurred losses of wheat, barley, okra, corn and molokhia due to the April spraying.
"The Israeli army wants to transform the eastern region into a desert, where there is no life for Palestinians," he said. "We are besieged by them and they want to control the land inside the Gaza Strip under false pretexts of security."
The April spraying offensive took place at a time when Gaza was under lockdown because of the COVID-19 pandemic. It was the second such offensive so far this year.
In January, Israel caused damage to 495 acres of Gaza's farmland by spraying them with herbicides. The economic loss inflicted has been estimated at $1.25 million.
Causing cancer?
Israel has admitted – following freedom of information requests by the human rights group Gisha – that it undertook almost 30 spraying operations against Gaza's farmers between 2014 and 2018. Nearly 1,900 acres of arable land were harmed during that period.
Among the herbicides used by Israel is glyphosate, which is sold under the brand name Roundup.
It has been recognized as "probably carcinogenic" by the International Agency for Research on Cancer.
Roundup's manufacturer Monsanto has faced numerous lawsuits from farmers in the US who blamed the substance for giving them cancer. Monsanto is now owned by the German corporation Bayer.
The herbicide spraying generally affects a "buffer zone" close to Gaza's boundary with Israel. Back in 2015, the Israeli military claimed that the spraying was undertaken to "enable optimal and continuous security operations."
That can be interpreted as an admission that Israel is pursuing a scorched earth policy.
International law prohibits military attacks that target farms and the crops growing on them.
Adham al-Bassiouni, a representative of Gaza's agriculture ministry, noted that Israel conducts spraying operations during the most important times of the year for Gaza's farmers – particularly early spring and early winter. Winds have been known to spread the chemicals beyond the areas directly sprayed.
According to al-Bassiouni, the farms affected by the spraying provide "the only source of livelihood for hundreds of poor families."
"This land is fertile and has a good soil for all types of crops," he said. "But the continuation of this process will kill the land over the coming years."
Amjad Ayman Yaghi is a journalist based in Gaza.
Tags