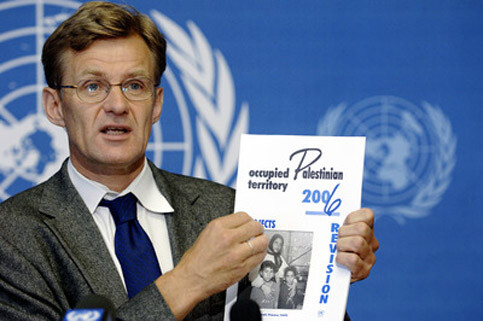 The top United Nations aid official said today that Israel's military offensive in the Gaza Strip is a "disproportionate use of force" but he again emphasized that all sides in the Israeli-Palestinian conflict were guilty of violating humanitarian law.
Jan Egeland, the Under-Secretary-General for Humanitarian Affairs and Emergency Relief Coordinator, made his comments while on a visit to Gaza as part of his continuing humanitarian mission to the region, from where he will travel to northern Israel tomorrow to see the destruction caused by Hezbollah rockets.
"This was clearly a disproportionate use of force," he said during a visit that included a health clinic damaged by Israeli incursions last week and also a stop at the power station that was destroyed by an air strike on 28 June, leaving the Gaza Strip without 45 per cent of its prior electricity supply.
Mr. Egeland made similar remarks to reporters earlier this month, when he also called for an end to rocket attacks that have rained down on Israel from Gaza and Lebanon, and for all those kidnapped to be released. After Palestinians from Gaza kidnapped a soldier, Israel seized dozens of Palestinians, mainly from the Hamas movement.
A UN spokeswoman in New York said Mr. Egeland had also travelled to Gaza City today where he met with the Commissioner General of the UN Relief and Works Agency for Palestine Refugees (UNRWA), as well as with community members, UN and other agencies.
He also met with Palestinian Authority leader Mahmoud Abbas in Ramallah, before tomorrow travelling on to Haifa, the spokesman added.
More than 100 Palestinians, many of them civilians have been killed in the last month alone in Gaza and Secretary-General Kofi Annan has called for "an immediate cessation of indiscriminate and disproportionate violence in the Israeli-Palestinian conflict."
Related Links