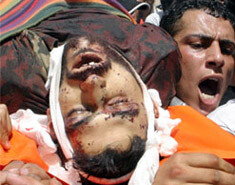 This morning, 7 June 2005, Israeli Occupation Forces (
IOF
) extra-judicially killed Muraweh Khaled Ekmayel, 30, from Qabatya village southeast of Jenin.  The victim was hit by several live bullets throughout the body after which the
IOF
bulldozed the house where he hid over him. 
IOF
also killed an innocent bystander while they were shelling the house.
According to preliminary investigations conducted by PCHR, at approximately 03:00 on Tuesday, 07 June 2005, IOF, accompanied by two military bulldozers and reinforced by two helicopters, moved into Qabatya village, southeast of Jenin.  They surrounded a 140-square-metre, two-storey house belonging to Fawzi Abu al-Rub in the east of the village.  They ordered the eight residents of the house through megaphones to leave.  After the residents of the house left, IOF opened fire at the house.  The IOF gunfire continued until 08:00 when the two Israeli military bulldozers took over and began to demolish the house. 
At approximately 08:30, dozens of Palestinian civilians gathered and threw stones at IOF vehicles.  Immediately, the IOF opened fire at these civilians and at neighboring houses.  A Palestinian civilian, 27-year-old Nasser Sa'id 'Abdul Rahim Zakarna, was killed by several live bullets to the chest, the back and the abdomen.  According to eyewitnesses, he was killed while he was painting walls of a house near the Abu al-Rub's house that had been surrounded by IOF. 
Additionally, three other civilians, including a child, were wounded by the IOF gunfire: Mahmoud Khaled Saba'na, 19, seriously wounded by a live bullet in the abdomen; 'Aadel Saba'na, 16, wounded by a live bullet in the left leg; and Tamer Saba'na, 29, wounded by a live bullet in the shoulder.
The demolition of Abu al-Rub's house was completed by 10:30.  At approximately 11:00, IOF withdrew from the village after having completely destroyed the house.  Immediately, Palestinian civil defense crews arrived at the area and searched the debris where they found the body of Muraweh Khalend Ekmayel.  The body was evacuated to Dr. Khalil Suleiman Hospital in Jenin.  According to medical sources, Ekmayel was hit by several live bullets throughout the body.  He had been allegedly wanted by IOF since the beginning of the current Intifada for being a member of the al-Quds Brigades, the military wing of the Islamic Jihad.    
PCHR strongly condemns this latest attack and remains concerned at such escalation by IOF. Extra-judicial and indiscriminate killings and wanton property destruction as well as other Israeli human rights violations indicate Israel's disregard for international law and humanitarian law and constitute breaches and grave breaches of the Fourth Geneva Convention (1949).
PCHR asserts that the policy of extra-judicial killings officially adopted by the Israeli government serves to increase tension in the region and threatens the lives of Palestinian civilians. PCHR reiterates its calls for the High Contracting Parties to the Fourth Geneva Convention to fulfill their obligations to ensure protection for Palestinian civilians in the Occupied Palestinian Territory.
Related Links