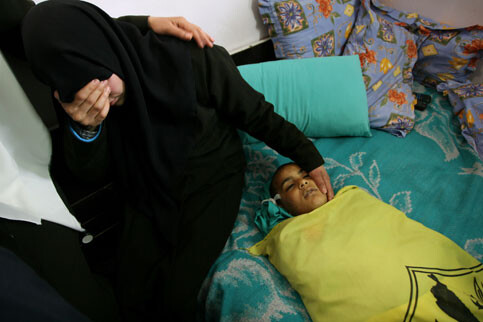 At approximately 4am 11 April 2008, a special unit of the Israeli Occupation Forces (
IOF
) penetrated on foot into the Gaza Strip. The force mobilized at the Gaza border and moved one kilometer into northeastern al-Bureij refugee camp, where it broke into a number of houses and took positions atop them. This force was backed by many tanks, military vehicles, and drones.
IOF
tanks opened fire indiscriminately in the area and bulldozed fields planted with olive trees. At approximately 1pm,
IOF
opened fire at a group of children, who are residents of the nearby area. As a result, 13-year-old Riyad Sherif al-Owais was killed and five other children were injured. In all, seven people were killed in this incursion.
At approximately 2:20pm later that day, IOF fired an artillery shell at a group of children and teenagers who gathered to watch the incursion. As a result, four of them were killed immediately and were identified as:

18-year-old Shihab Mohammad Ahmad Abu Zubeida of al-Bureij refugee camp;
19-year-old Jihad Mohammad Salem Abu Zubeida of al-Bureij refugee camp;
18-year-old Yousif Ali al-Maghari of al-Bureij refugee camp; and,
18-year-old Abdul-Raziq Atta Nofal of al-Nuseirat refugee camp.
Three others were injured and one, 15-year-old Yousif Sarhan, sustained serious injury. He was transferred to al-Shifa Hospital in Gaza City for treatment, where medical sources later pronounced his death. He was from al-Bureij refugee camp.
IOF continued to fire at crowds, causing injury to 31 people including 15 children. The injured were transferred to al-Shadha'a al-Aqsa Hospital in Deir al-Balah for treatment. Due to the seriousness of their wounds, eight of those injured were transferred to al-Shifa Hospital in Gaza City.
Later that day, at approximately 8pm, an IOF warplane fired one missile at a group of armed resistance members. As a result, 28-year-old Munzir Abu Howeshl, from al-Nuseriat refugee camp, was killed.
At approximately 10:30am on 12 April 2008, IOF began to withdraw and pulled out completely by 2pm that afternoon.
Al Mezan documented that IOF bulldozed 50 dunams of olive trees and one water well. The forces destroyed three homes and one private vehicle. In what appears to be random, indiscriminate detention of civilians, IOF arrested 17 Palestinians during the incursion. They were interrogated and all but one were released later that day. This represents a standard policy practiced by IOF that humiliates and encroaches upon the dignity of Gazans.
In addition, IOF continue to deny the entry of fuel into the strip and this severely delays medical treatment for the wounded. During this incursion, medical crews had severe difficulty transferring the critically injured from al-Shadha'a al-Aqsa Hospital in Deir al-Balah to al-Shifa Hospital in Gaza City. It is noteworthy that the hospital in Deir al-Balah cannot treat severe injuries due to lack of medicines and specialized health care.
Al Mezan Center for Human Rights condemns strongly IOF's escalation of acts of murder in the Gaza Strip, particularly civilians and children. As this press release shows, the majority of people killed in the al-Bureij incursion were civilian children and teenagers. Furthermore, homes were targeted and farms were bulldozed, denying hundreds of people their source of livelihood. Al Mezan emphasizes that IOF's conducts constitute grave breaches of the rules of international humanitarian law (IHL).
The Center demands immediate action to investigate IOF's conducts and to lift the siege imposed on the Gaza Strip. The ongoing blockade of goods, particularly fuel, harms peoples' lives and threatens to stop the work of hospitals and medical crews. Al Mezan warns that the international community's ongoing silence in regard to IOF's crimes will have major consequences on the civilian population, especially since the Israelis repeatedly threaten to launch severe, brutal attacks on Gaza.
Al Mezan calls on the international community to act effectively and urgently to stop Israel's grave breaches of IHL and provide international protection for the civilians in the Occupied Palestinian Territories. In addition, as part of their legal and moral obligations towards these civilians, they must act urgently to end the siege on the Gaza Strip that affects their humanitarian needs.
Related Links