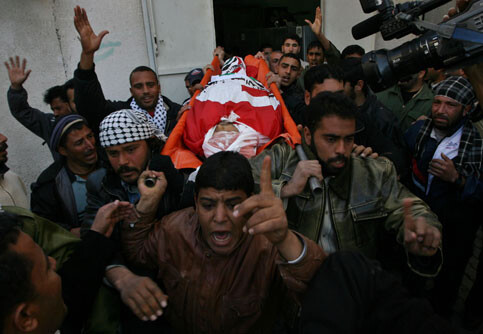 Israeli Occupation Forces (
IOF
) have intensified their war crimes in the Gaza Strip with total disregard for civilian lives. During the last three days, nine Palestinians, including four civilians, have been killed by the
IOF
. Three of the civilian victims were women. In addition, 57 other people were inured, the majority of whom were also civilians. On 18 January shrapnel from a bomb fired from an Israeli fighter jet onto a governmental building hit a nearby wedding celebration, killing one woman and injuring dozens of others.
According to preliminary investigations carried out by the Palestinian Centre for Human Rights (PCHR), at approximately 15:40 on Friday, 18 January, an IOF fighter jet fired a bomb at a five-story building near the Palestinian Governmental Complex in the densely populated Tal al-Hawa quarter of Gaza City. The bomb hit and completely destroyed the building. Flying debris and shrapnel from the bombing killed 52 year old Haniya Hussein Abd al-Jawwad, who was on her way to her nephew's wedding celebration, some 120 meters from the targeted building. In addition, 46 civilians, including 19 children and three women, were injured by the blast. A large number of houses and vehicles in the area also sustained damage. The targeted building was empty, and is no longer used by the government in Gaza as it had been bombed twice previously.
In addition to inflicting death and injuries at a civilian wedding on 18 January, the IOF also committed two extrajudicial executions on 17 January.
At approximately 19:25 on Thursday, 17 January, the IOF fired a rocket at the Sheikh Zayed intersection in Beit Lahia. A vehicle was traveling in the targeted area, as well as a donkey cart with several passengers. The rocket exploded three meters away from the cart, killing 52-year-old Mariam Mohammad Ahmad al-Rahel, and her 22-year-old son, Mohammad Saleh al-Rahel. Her 17-year-old son, Mansour, was seriously injured by the bomb. Another five civilian bystanders were also injured, including two children. The Israeli media stated that IOF sources claimed the bombing had targeted a group of resistance activists traveling in a vehicle in the targeted area.
The second extrajudicial execution also occurred on Thursday, 17 January. At approximately 1:20pm, an IOF plane fired two rockets at a civilian vehicle near Sheikh Zayed intersection in Beit Lahia. The vehicle sustained a direct hit, and its two occupants were killed immediately. They were identified as 30-year-old Ra'ad Shehda Abu Fuol, an activist with the al-Quds Battalions, and his 35-year-old female civilian neighbor, Fatheya Yusef al-Hassoumi.
IOF air strikes also killed four resistance activists in separate incidents on 18 and 19 January.
At approximately 7:30 on Friday, 18 January, an IOF plane fired a rocket at a group of resistance activists, east of Jabaliya city in the northern Gaza Strip. Two of the activists, 18-year-old Mahmoud Ramadan al-Borsh, and 21-year-old Ismail Mohammad Redwan were killed. Three civilian bystanders were also injured.
At approximately 1:15am on Saturday, 19 January, an IOF plane fired a rocket at a group of resistance activists engaged against an IOF force east of Jabaliya city. One activist, 27-year-old Ehab Ali al-Banna, was killed. Two civilians were also injured. Approximately two and half hours later, an IOF plane fired a rocket at a second group of activists, killing 26-year-old Ali Jum'a Ahmad Jum'a. Three other activists were injured.
These war crimes coincide with the closure of all border crossings to the Gaza Strip, which also threatens to exacerbate the humanitarian crisis in Gaza at all levels.
PCHR condemns these latest crimes, and:
1. Affirms that these crimes are a continuation of Israeli war crimes in the Occupied Palestinian Territory that totally disregard the lives of Palestinian civilians.
2. Calls upon the international community to act immediately to stop these crimes, and renews its call to the High Contracting Parties of the Fourth Geneva Convention to fulfill their responsibility under Article 1 of the Convention to ensure that it is respected under all circumstances, and their responsibility under Article 146 to pursue persons suspected of perpetrating serious violations of the convention. PCHR notes that IOF violations are considered war crimes under Article 147 of the Convention and under its first protocol.
Related Links