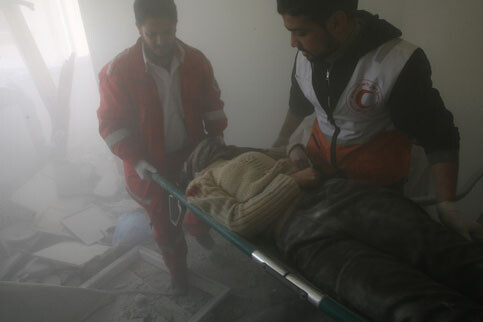 Israeli Occupation Forces (
IOF
) escalated the attacks and ground incursions against Gaza today. Many attacks hit civilian homes and other objects, killing 31 Palestinians, including eight children. Among the civilian casualties are 13 civilians who were killed inside their homes. Since Wednesday 27 February 2008,
IOF
killed 61 persons and injured approximately 120. Most of the casualties are civilians.
IOF
has killed 182 Palestinians in Gaza since the start of 2008.
According to Al Mezan's monitoring, Gaza's hospitals face serious difficulties dealing with these casualties. In particular, hospitals in northern Gaza are suffering shortages in medicines and other medical materials. More seriously, these hospitals are running out of fuel as they are forced to use electricity generators for long times. Ambulances also suffer troubles collecting the victims owing to the lack of benzene.
In the early morning hours today, IOF troops entered the eastern suburbs of Jabalia under the cover of helicopters. Helicopters opened heavy machine gun fire at ambulances as they tried to collect the injured.
Al Mezan documentation shows that 13 persons were killed inside their homes in this area, six of whom were children. Two other children were killed near their homes in the same area; their is not yet known.
IOF's attacks still escalate now under mounting statements from the Israeli government threatening that the Israeli army would intensify its operations and launch large ground invasions.
Al Mezan Center for Human Rights strongly condemns IOF's conduct in Gaza. The arbitrary attacks on residential areas and the targeting of civilian objects, including homes and medical teams, represent war crimes according to the provisions of international humanitarian law. The center also condemns the indiscriminate, excessive use of force by the occupying forces, which has killed and injured dozens of civilians during the past four days.
Al Mezan condemns the inaction of the international community and demands it to uphold its moral and legal obligations and bring to an end Israel's crimes.
Related Links