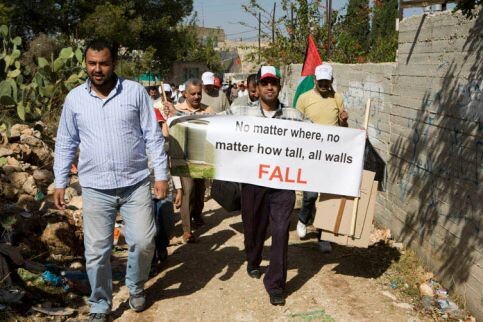 On 12 January 2010 my father Ibrahim was arrested by the Israeli army and sentenced to two years in prison for organizing and participating in nonviolent protests against the Israel's wall in the occupied West Bank. The wall cuts us off from our land and our olive groves, robbing our family of its livelihood.

To date there have already been 15 court hearings. We feel the Israeli occupation bureaucracy is deliberately delaying court proceedings. This creates an additional layer of punishment for my father and for his family. At each hearing, he must wait from 6am to 2pm in a hot room without food or water. Once each hearing begins he is tired, hungry and thirsty.

My father has been charged with the following offenses:

Being present in a declared military zone. The "military zone" is actually our olive groves, which Israel declared a military zone, once they started building the wall. The continued construction of the wall is a clear violation of the July 2004 International Court of Justice ruling declaring it illegal under international law.

Organizing illegal and violent demonstrations. My father is a strong opponent to violence and in fact has discouraged others from reacting violently whenever we have been attacked by the Israeli military.

Incitement to throw stones and use other means of violence. The Israeli authorities claim that my father paid money to demonstrators to throw stones at soldiers, their jeeps and the wall. This charge is completely absurd. After my father first got involved with the nonviolent protests in 2008, the Israeli authorities revoked his work permit. Since then he has been unemployed and struggles to put enough food on the table for my six siblings, our mother and myself. To claim that he was paying others to throw stones or cause damage to the wall mocks the terrible daily reality our life and the lives of other Palestinians living under occupation.

All of these charges are based on the forced confessions of two young men from Nilin, one of them mentally ill.

Mostly, my father is worried about us, his family. Not only because it is even harder now, without him, to cover our bare necessities, but also because our family is being intimidated regularly by the Israeli military. They have raided our house already 25 times in the middle of the night, eight times after my father was arrested. Sometimes they just come to harass, mock and threaten us. Other times they come with dogs, unleash them inside the house, rummage through the house and cause a great deal of damage. Due to the repeated abuse we have endured, both of my five-year-old twin brothers are terrified and suffer from nightmares.

My father wishes for nothing but peace and freedom and he believes that a lasting peace can only be reached with peaceful methods. In his opinion, violence will only add to the hatred and confusion and further worsen the situation of Palestinians living under occupation. This is why he taught us not to consider violence a solution in our struggle to restore our rights.

However, he does believe that it is our duty to protest a terrible wrong that destroys the very existence of the inhabitants of Nilin village. Hence, when Israel started marking the course of the wall that led straight through our olive groves in May 2008 stealing a third of the village's land, the inhabitants came together and formed the Nilin Popular Committee Against The Wall. The Popular Committee nonviolently resists the construction of the wall.

The Popular Committee chose my father to be part of the leadership as well as its official representative, because they want the world to see the truth about us: we are peaceful people who reject violence and we do not intend to harm anybody. We believe in freedom, peace and justice for every human being on earth and we dream to spread it from Nilin throughout the entire world.

We started with our protests on 27 May 2008, walking toward the bulldozers that were uprooting our olive trees. We walked with our hands raised, so that the Israeli soldiers could see that we were unarmed. Initially, our protests were successful and we managed to delay the construction. Soon Israeli forces started to shoot sound bombs, tear gas canisters, rubber bullets and even live ammunition to disperse our peaceful demonstrations.

Since the protests started, five persons have been killed by Israeli soldiers, including a 10-year-old child, Ahmed Moussa, and more than 500 individuals have been detained. We have endured curfews, destruction of our property, snipers shooting demonstrators in their legs from the roofs of houses in Nilin. All of these acts of repression are intended to to discourage villagers from participating in the nonviolent protests. My 12-year-old sister Sammer has been shot in her hand with live ammunition simply for participating in the protests. My 10-year-old sister Rajaa was hit in her leg by a sound bomb when she tried to prevent snipers from climbing on our rooftop to shoot at other villagers.

Nilin, our village, our home, is being turned into an open-air prison. The current entrance to the village will be closed, and will be replaced by a tunnel that will be built under Route 446 — a road which only Jewish settlers are allowed to use. The tunnel will not only divide Nilin into two parts. It will also give the Israeli military the power to decide when and if they will open or close the gate, and therefore cut us all off from the outside world.

On Monday 12 July, my father appeared in court again. The Ofer Military Court sentenced my father to 11 months and 15 days in prison and a fine of 9,000 shekels ($2,330) with a prohibition from joining future protests. To avoid staying in prison my father pleaded guilty, otherwise he would stay in jail longer and the authorities would continue to postpone the hearing. We have been given two months to pay the 9000 shekels, but have no means to pay this amount. If we do not pay the fine then my father's sentence will increase to 20 months and 15 days.

Together with my father, two more members of the Popular Committee, Hassan Mousa and Zaydoon Srour, each received the same sentence as my father. Their families are undergoing the same ordeal that we are.

We always try to be strong in the face of the oppressor. However, when they read the sentences, my mother started crying. We had to watch as my father, Hassan and Zaydoon and left the court room in shackles. When my father was asked if he wanted to say something, he stated that this ruling is against humanity and that we all suffer from the occupation and can't do anything about it.

We are all very upset and worried about my father. He is sick and he doesn't even get the medication he needs while in jail. We are also very sad, because only my mother can visit him in jail, and only after he had been in prison for four months. Still, my father maintains that nonviolent protests are the only solution. Please show your support for Ibrahim Amireh and your objection to his illegal imprisonment; for more information join the Facebook group "Support My Father: Peace & Freedom Activist Ibrahim Amireh."

Saeed Amireh is from the occupied West Bank village of Nilin.