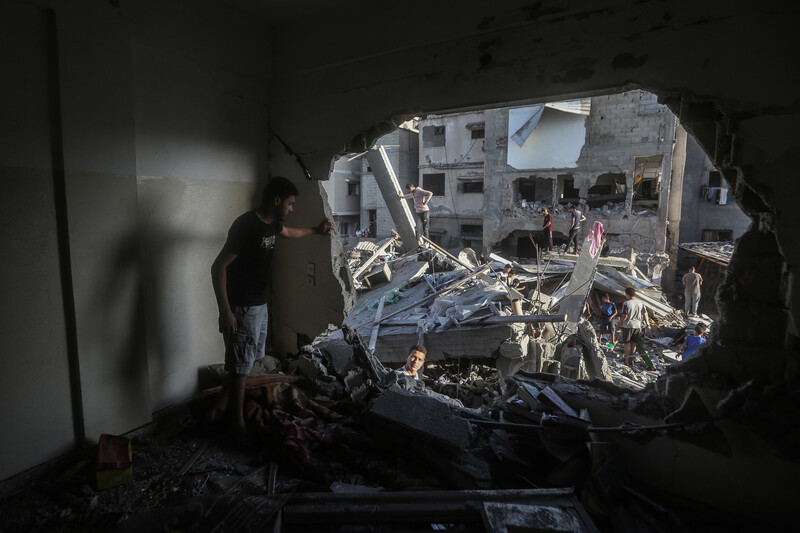 My father once told me that if you are from Gaza "you must smile all the time."
You must smile even "if your dreams are stolen by others."
I was in my final semester at the Islamic University of Gaza (IUG) then. I loved the university.
One day my mother called to say there was someone who wished to propose marriage. A moment of total silence followed.
I felt alone and weak. I wanted someone to give me advice.
The idea of getting married was horrific at that time. I did not know how I could do well in exams if I was getting married.
I was afraid, tired and distracted.
My friends told me to take my time and think.
Rana, my dearest friend, told me, "You are strong and clever. If you get married, you will succeed in your exams and in your new relationship. I believe in your skills. The man looks cute. He looks like he has good manners."
I felt relieved by what Rana told me.
"My lovely daughter," my father said. "I love you and want the best for you. This man is so polite. All the people have spoken extremely well of him. He will respect you and you will live a fantastic life with him."
My family gave me time to think about the matter. After a long time, I said "yes."
But I wanted to know how this man had heard about me. His mother told my mother that they knew me from the IUG's festival.
The festival focused on women in Gaza and I was among the participants. It was a chance to meet people from both outside and within Palestine.
This man's brother had attended the festival. After seeing me there, he told his mother that he had found a bride for his brother Yousef. Wow!
Happy couple
My father phoned the al-Hallaq family, asking them to pay us a visit, bringing Yousef.
I sat with Yousef and spent some time asking questions. After that we began courting and got engaged.
We were a happy couple – kind to each other.
The financial situation was not good enough for us to do whatever we wanted. But we managed to pass the lean days together and to build a wonderful new life.
Yousef had spent a long time saving money so that he could live a decent life in Gaza.
We planned to find somewhere to live at the beginning. But all accommodation was expensive.
So we opted to live on the top of our family's building.
Yousef and I started fixing up our home from scratch. After choosing the colors for our home – white and gray – we selected the most beautiful sofa, bed and rugs.
It was extremely difficult for us due to the lack of employment opportunities.
Yousef worked hard to provide for us both and I was still studying at the IUG.
In August, I graduated with an English education major.
I was always thinking about life after graduation? What could I do?
I was thinking all the time about getting a job.
After graduating, we finished preparing our home.
We got ready for our wedding.
I chose a dress and white shoes. I felt like the happiest girl ever.
Yousef chose his suit, black shoes and the wedding hall.
Despite not having much money, we took pleasure in simple things.
Frightened
I heard wonderful news – that the IUG was holding a course in marketing and content writing. It would be tailored for new graduates and people who did not have jobs.
I unleashed my imagination. I could work in marketing, translation and writing on social media.
That was my dream. I felt that my dreams could come true.
I started the marketing and content-writing course about six weeks ago. Refaat Alareer, a well-known writer and academic in Gaza, gave me lots of beneficial information.
On Saturday 7 October, I was scheduled to attend class.
That morning, my husband woke me up. "My love, there is a strange sound outside," he said.
The war started that day. I could hear bombing everywhere.
I left my home and went to where my uncle lived. I was so frightened.
After a few days, our relatives came to our home. They had been displaced – the Israeli occupation had attacked and destroyed their own home.
They were in tears when they reached us.
One of our relatives is a little girl. She had been rescued from the remains of their home.
She described the experience as like being in a grave.
I will never forget her pain. I will never forget the looks of distress on my relatives' faces.
I hated to listen to the news. But I was obligated to hear how the IUG had been bombed.
I had been waiting for and just begun an important course at IUG. Now it was gone in the blink of an eye.
Helplessness mixed with tears
Israel's occupation has left us with no space to breathe. No safe space at all.
We live without any freedom in Gaza.
On 13 October, we experienced another Nakba. We were ordered to evacuate – like people were forced from their homes during the 1948 ethnic cleansing of Palestine.
This meant that we had to abandon our homes and make our way toward Khan Younis in southern Gaza.
We packed some basic necessities in a small bag and left our home. Our home in which we had invested so much.
The streets were crowded with displaced people. The sound was one of helplessness mixed with tears.
People were searching for cars to take them and their families. But a huge number of people decided to walk.
Never give up. God is here with us.
At a school run by the UN agency for Palestine refugees (UNRWA), I stood gazing at everyone there. It felt very weird.
A group of children played, couples held hands, injured children cried. I felt miserable.
I was in the schoolyard, trying to cheer myself up, when I heard some devastating news.
Israel had destroyed our home.
I am broken.
There is nothing left.
My home, my university, my dreams.
All gone.
Batoul Mohamed Abou Ali graduated recently from the Islamic University of Gaza.
Tags