Bilal al-Mashharawi, 8, is seriously ill.
Earlier this month, he was diagnosed with a lung disease by al-Makassed hospital in occupied East Jerusalem.
Arranging the tests he needed at the hospital proved to be a major ordeal.
For several months, his family – who live in the Gaza City neighborhood of al-Zaytoun – sought a travel permit for Bilal. The Israeli military authorities repeatedly rejected their requests.
As his parents struggled with a Kafkaesque nightmare, Bilal's health worsened.
"Seeing my child like this is killing me," his mother Aya said shortly before the diagnosis. "His brothers and his sister are always praying for him and asking me to save his life. But I feel helpless."
Although it had been evident for some time that Bilal had lung problems, doctors in Gaza's al-Rantisi hospital were unable to give him a precise diagnosis.
With the healthcare system under massive strain as a result of the complete blockade Israel has imposed on Gaza for more than 15 years, local doctors admitted they cannot provide him with the treatment he needs. In December, he was referred to Jerusalem's al-Makassed hospital.
The family received confirmation from the Palestinian Authority – based in the occupied West Bank city of Ramallah – that it would cover the costs of Bilal's treatment.
Yet Israel soon began placing hurdles in the family's way.
First, it rejected an application for Bilal to leave Gaza, accompanied by his father Muhammad, citing the pretext of "security."
So the family submitted a fresh application, naming Bilal's mother Aya as his chaperone.
"A day before our scheduled appointment, I got a shock," Aya said. "A message on my phone told me that I had also been rejected because of 'security' concerns."
The family then submitted yet another application for an exit permit. This time the family named Bilal's 52-year-old grandmother as his chaperone.
Two days after submitting the application, the family learned that it, too, had been turned down.
Interrogated
During their ordeal the family sought assistance from Gisha, an Israeli human rights group. Gisha initially asked the Israeli authorities to allow Bilal to travel, accompanied by one of his parents.
Yet Israel once more refused, offering "security" as an excuse.
Gisha was more successful when it petitioned Israel's court system to allow Bilal travel, escorted by his grandmother.
On 7 April, Bilal and his grandmother were finally able to enter Jerusalem.
His grandmother was subjected to harsh movement restrictions while in Jerusalem. She was not allowed to visit al-Aqsa mosque, one of Islam's holiest sites, during Ramadan.
She was also interrogated by Israeli soldiers both when leaving Gaza and returning a few days later.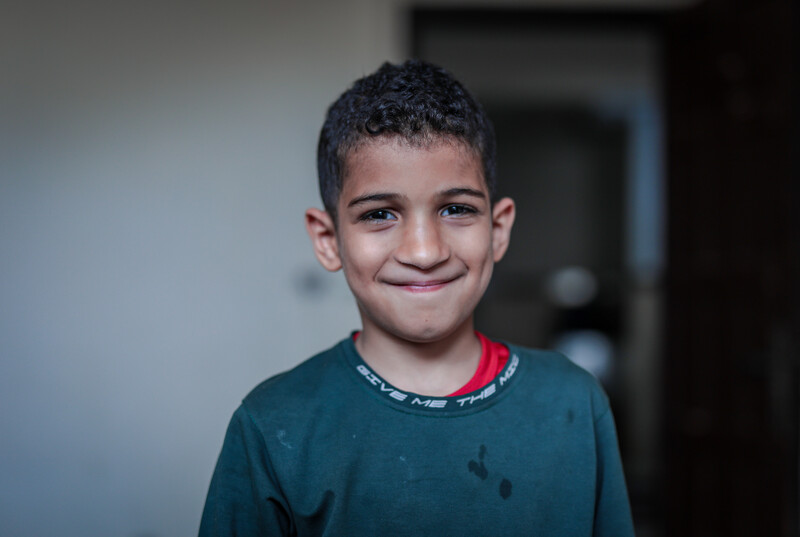 Bilal has another appointment in Jerusalem scheduled for next month. That means the family has to ask Israel for permission to travel once more.
At this stage, the family does not know who will be able to accompany him or even if Israel will grant the necessary permit. His grandmother has medical issues of her own, so the family is worried about the effects which another arduous journey could have on her.
It is not unusual for Israel to behave in such an inhumane way.
Al Mezan, a Palestinian human rights group, documented how three children died between January and August 2022 after Israel blocked them from receiving medical treatment outside Gaza.
Last month Israel arrested a cancer patient when he returned from Gaza after receiving treatment in Jerusalem. The Palestinian Centre for Human Rights complained that such arrests are part of an "ongoing policy" by Israel's military occupation.
Israel received more than 1,600 requests from patients to leave Gaza for medical appointments scheduled during March. Eighteen percent of the permits sought were not granted on time, the UN monitoring group OCHA has stated.
Khalid al-Bahtini, 37, is among many people in Gaza who have been prevented from accessing medical care.
For the past 16 years, he has received kidney dialysis at al-Shifa hospital in Gaza City.
With his condition deteriorating, doctors at the hospital have been unable to hook his arteries to a dialysis machine recently. For that reason, he was referred to al-Makassed in Jerusalem.
Khalid was given an appointment in that hospital during December. But Israel refused to allow Khalid and his wife Riham to travel, citing "security" reasons.
He has made a number of subsequent applications, seeking that his father and aunt be allowed to accompany him. Israel has turned down all of the requests.
The refusals have meant that – as well as his physical discomfort – Khalid and his family have to endure a great deal of mental anguish.
"I can barely sleep," Khalid said. "I can't bear the pain all over my body."
Khalid and Riham have four children, aged 3 to 16.
"Of course, this has an effect on our daughters," said Riham. "They are constantly worrying. Our life is so miserable."
Aseel Mousa is a journalist based in Gaza.
Tags