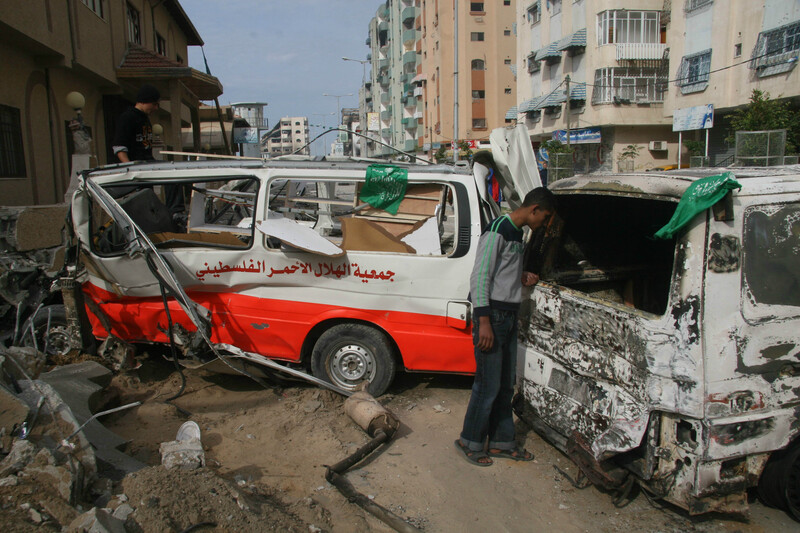 RAMALLAH (IPS) - The European Commission has released a document that lists projects it funded that were destroyed or damaged by the Israeli military between May 2001 and October 2011.
The list documents 82 such instances, amounting to a monetary loss of €49.2 million ($65.6 million), €30 million ($40 million) of which came directly from European aid.
The list was made available to Chris Davies, a British member of the European Parliament, following his inquiry to the European Commission. Davies subsequently published the findings on his webpage where he stated that the list was "the most detailed response I have ever received from the European Commission."
The recently published record is yet another indicator of the disregard with which Israel treats its European allies' activities in the occupied West Bank and Gaza. Last year, it was calculated that Israeli-imposed travel restrictions cost international aid organizations $4.5 million a year.
Davies notes that while the economic damage is not significant in the larger context of the Israeli occupation, the Commission's meticulous record is illuminating.
The bulk of the damage was inflicted during the years of the second intifada as well as Israel's attack on the besieged Gaza Strip in the winter of 2008-2009.
The projects range in scale. In the winter of 2001, Gaza's international airport was devastated, costing contributing countries (Spain, Sweden and Germany) €9.5 million ($12.7 million).
Ambulances attacked
Smaller-scale but significant destruction also incurred. For example, during the second intifada, Israeli attacks destroyed a fleet of Red Crescent ambulances financed by the European Commission, the EU's executive.
Israel's attack on Gaza in the winter of 2008-2009 destroyed nearly €2 million ($2.7 million) worth of European-funded projects, including several waste management and water treatment plants.
Apart from European-funded projects, demolition of homes, schools and water collecting devices in Area C of the West Bank occurs on a regular basis. Sixty-two percent of the West Bank is classified as Area C — meaning it comes under full Israeli military and civilian control. Area C is home to 150,000 Palestinians and 300,000 Israeli settlers.
Israel claims to have the right to demolish any structure built without a permit. International, Israeli and Palestinian human rights organizations all concur that building permits are virtually impossible to acquire.
In 2011 alone, 746 Palestinian structures and homes and 46 rainwater collective devices were destroyed by Israeli forces. Hundreds more homes throughout Area C are awaiting demolition.
"To exist is to resist"
Palestinians and solidarity activists agree that it is crucial to help Palestinians living in Area C to stay on their land. One such organization, the Jordan Valley Solidarity Project, has taken the saying "To exist is to resist" as their guiding principle — helping to build homes, schools and other needed structures, in spite of the constant risk of demolition — in order to help Palestinians stay on the land.
The European Commission's list suggests that member states of the EU are not funding projects in Area C, even though it is where arguably the most needy population lives.
This was confirmed in a study conducted by Birzeit University last year on the effectiveness of development aid, which included interviews with both donors and recipients of aid.
The study found that the policy of most international aid agencies was to not build without a permit because it would constitute a political confrontation to the Israeli occupation, in addition to being laden with bureaucracy.
There are exceptions to this. There are two cases of the Spanish and German governments funding solar panels in villages of the Hebron hills, which are located in Area C. However, in news that stunned many, both projects received demolition orders earlier this year.
Speaking critically of the way aid has been given to the Palestinian territories, a representative from the Swedish International Development Cooperation Agency (SIDA), Peter Lundbergh, said, "Development should help Palestinians stay on their land; too many have left Area C."
All rights reserved, IPS - Inter Press Service (2012). Total or partial publication, retransmission or sale forbidden.
Tags