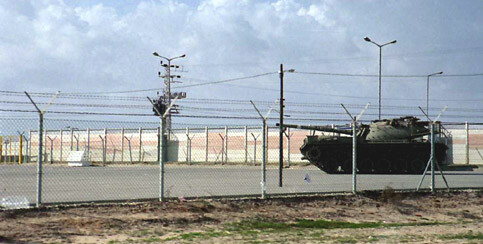 The United Nations Relief and Works Agency for Palestine Refugees (
UNRWA
) has today protested to the Israeli Government at the ongoing closure of the Erez Crossing into the Gaza Strip. The closure, which began on Tuesday 31 August, seriously damages
UNRWA
's ability to carry out its humanitarian mandate in the occupied Palestinian territory.
In an unprecedented and serious development, the Israeli authorities have barred Peter Hansen, UNRWA's Commissioner-General and an Under-Secretary General of the United Nations, from leaving Gaza to carry out his duties in the West Bank. It is unheard of for the executive head of a UN agency to have his freedom of movement flagrantly curtailed by a member state of the UN in this way.
The Israeli authorities have stated that Erez has been closed because of the discovery of explosives on a Palestinian worker using the labourer's crossing point at Erez. Despite the fact that the Palestinian workers utilize an entirely different passage through Erez from that used by UN staff with diplomatic visas (issued by the Government of Israel), despite the fact that UN staff each have a United Nations-issue Laissez Passer (UNLP) identification, despite the fact that no international staff member has ever been implicated in any security matter, despite the fact that there has never been a case in which a false UNLP has been presented to the Israeli authorities at Erez and despite the fact that UNRWA is performing work (using funds contributed by members of the United Nations) that would otherwise fall to the Occupying Power, the Israeli authorities have nonetheless refused to open Erez to UN traffic.
Peter Hansen said: "I fail to see any rational reason - and we have not been offered any - for this unacceptable disrespect for international law and just common decency. The Agency's ability to carry out its essential humanitarian operations is being seriously undermined."
As a signatory to the Convention on the Privileges and Immunities of the United Nations, and to specific agreements between UNRWA and Israel, the Government of Israel is again failing to live up to its obligations under international law to allow freedom of movement for UN personnel.
More Information
Paul McCann, Tel. +972 (0)59 428 008, Web: www.unrwa.org.

Related Links