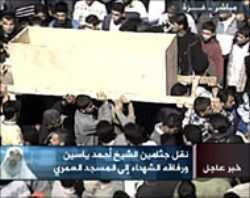 In an act of state terrorism, on Monday morning, 22 March 2004, Israeli occupying forces assassinated Sheikh Ahmed Yassin, 66, founder and political leader of the Islamic Resistance Movement (Hamas), immediately after he had left the mosque after finishing the dawn prayer. In addition to Sheikh Yassin, 7 Palestinian civilians, including 3 of Sheikh Yassin's bodyguards, were killed and 17 others injured, including two of Sheikh Yassin's sons.
This illegal and belligerent act is an actual implementation of the Israeli authorities' threats to assassinate Sheikh Yassin, which were recently articulated by Israeli political and military officials. This is the second use of illegal and excessive force of its kind committed by Israeli occupying forces against a top figure in a Palestinian organization, as Israeli occupying forces previously assassinated the Secretary General of the Popular Front for the Liberation of Palestine Abu 'Ali Mustafa in Ramallah on 27 August 2001.
According to preliminary investigations conducted by PCHR, at approximately 05:20 on Monday morning, Israeli helicopter gunships launched 3 missiles at Sheikh Ahmed Yassin, 66, an elderly disabled man, after he had left the Islamic Association Mosque in the densely populated al-Sabra neighborhood in the center of Gaza city, after the dawn prayer. Sheikh Yassin was traveling on his wheelchair accompanied by 3 bodyguards, when one of the missiles directly hit Sheikh Yassin and his bodyguards. The other two missiles exploded in the surrounding area and killed 4 other civilians.
In addition to those killed, 17 civilians were injured, including Sheikh Yassin's two sons: 'Abdul Hamid, 33; and 'Abdul Ghani, 29. Four children were among those injured. 'Abdul Hamid and 5 of the injured remain in serious condition. All of the casualties were worshippers who had just left the mosque following the dawn prayer. The other 7 victims killed were identified as: Mo'men Ibrahim al-Yazouri, 28; Rateb 'Abdul Rahman al-'Aloul, 35; Khamis Mushtaha, 32; Ameer Ahmed 'Abdul 'Aal, 25; Rabi' 'Abdul Hai 'Abdul 'Aal, 18, a bodyguard of Sheikh Yassin; Ayoub Ahmed 'Atallah, 26, a bodyguard of Sheikh Yassin; Khalil 'Abdul Elah Abu Jayab, 30, a bodyguard of Sheikh Yassin.
Israeli media reported after the incident that Israeli official sources announced that the assassination was approved by the Israeli government and Israeli Prime Minister Ariel Sharon himself supervised the attack.
Sheikh Yassin had survived a previous assassination attempt on 6 September 2003, when Israeli warplanes attacked an apartment building in which Sheikh Yassin and Isma'il Haniya, another leader of Hamas, were present. The two leaders were lightly injured during that incident.
PCHR strongly condemns this illegal and excessive use of force, which was committed in the context of the policy of extra-judicial assassination officially adopted by the Israeli government, in violation of international law and humanitarian law.
PCHR believes that this horrific act further proves that the Israeli government continues its aggression contrary to its misleading claims of seeking peace. Such actions signify that the Israeli government and Prime Minister Sharon have decided to intentionally escalate tension in the whole region.
PCHR calls upon international community to immediately intervene to prevent further deterioration in the region and provide protection for the Palestinian people in the Occupied Palestinian Territories, who face the destructive Israeli arsenal that is unwilling to respect international humanitarian and human rights law.
Related Links