The mayor of The Hague, Wim Deetman, said on Dutch

TV

that the Israeli embassy in The Hague is contradicting his responsibility to maintain public order during the oral hearings of the International Court of Justice on the legal consequences of the wall this week. The Israeli embassy has been coordinating protests and provided the pictures of 927 Israeli victims of suicide bombings to the Zionist-Christian organizations "Christenen voor Israel". Deetman has argued that the provocative use of pictures will disrupt public order.

Israel's Foreign Ministry issued a statement against the mayor of The Hague, stating that Israel is stunned that a top political official in a country with which it has friendly relations views the presentation of photos of terror victims as a provocation.

Earlier this week, the City Council of The Hague discussed the cynical use of the wreckage of bus 19 by the Israeli Embassy and pro-Israel supporters to politicize the legal debate at the International Court of Justice.

Ronnie Naftaniel, a leading pro-Israel lobbyist, who regularly coordinates with the Israeli Embassy as was recently admitted by Israel's ambassador E. Margalit in a TV documentary Zembla broadcasted on Dutch TV, says that he does not expect problems by exposing bus 19. "It has to emphasize that it is the cause of the construction of the wall, while there is special attention to the consequences".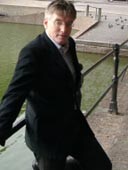 Last week, municipality council member Robert van Lente has filed written questions to the mayor of The Hague and other municipality officials, asking about the permits provided to pro-Israel organizations for exposing bus 19. "Our political point of view is that this is unacceptable, although we understand that the mayor has tested the request according to freedom of expression. I believe it is disgusting to use a bus in which innocent victims died in a legal battle", Van Lente said. Van Lente asked whether Israeli protesters were planning to transport more attributes to their demonstrations, whether Palestinians were planning attributes to their demonstrations, whether the mayor could inform the City Council what arguments were present to provide a license to expose the bus, taking into account that the bus could provoke disruptions of public order during the demonstration, whether agreements have been made about the removal of the bus after the demonstrations have ended, and whether the Council agreed that taking this risk will set a precedent in the future how to deal with the use of macabre objects such as the exploded bus. He also asked in what way the right to freedom of expression during demonstrations relates to the provocative use of exposing the wreckage of a bus.

As Palestinian delegates had to travel through Spain because Dutch authorities were reluctant to provide necessary visas, Israeli officials have adopted an aggressive approach aimed at politicizing the legal hearings at the International Court. The Zionist-Christian group, "Christenen voor Israel" donated funds to transport bus 19 to The Hague and helped obtain permission for it to be publicly displayed outside the Peace Palace where the oral hearings will take place. The Israeli Foreign Ministry and Jewish Agency have briefed scores of pro-Israel students that will be flown to Holland on special rated tickets to recite for reporters propaganda prepared by the Foreign Ministry.

Related Links