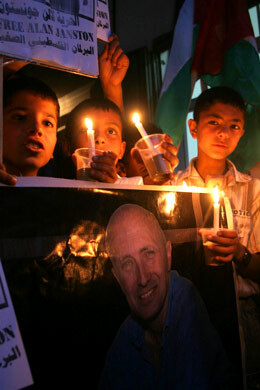 Journalists' leaders and media chiefs meeting in Iraq today issued a new appeal for the release of kidnapped
BBC
journalist who has been missing for eight weeks in Palestine.
The Iraqi journalism community was meeting in Irbil in the north of the country to put together a national safety and security strategy to combat the threats to media and reporters in a conflict that has already claimed the lives of more than 200 media staff since the United States invasion in 2003.
Aidan White, the General Secretary of the International Federation of Journalists, opening the meeting, said that there would be no peace, reconciliation or democratic development of Iraq without an end to the violence and specifically an end to the targeting and intimidation of journalists.
The meeting said that the kidnapping of Johnston in the Gaza Strip was symbolic of the daily threats and violence being faced by Iraqi media when a number of journalists have been missing, believed kidnapped, for many months.
"We call for the release of colleague Johnston and we reiterate the demand that those colleagues missing in Iraq are freed or there whereabouts made known" said a statement issued by the meeting which was attended by 60 representatives of journalists' groups and media organisations.
The meeting went ahead in the shadow of a bombing yesterday that killed 14 people in Irbil and a targeted attack on journalists in Kirkuk which claimed four lives.
Related Links