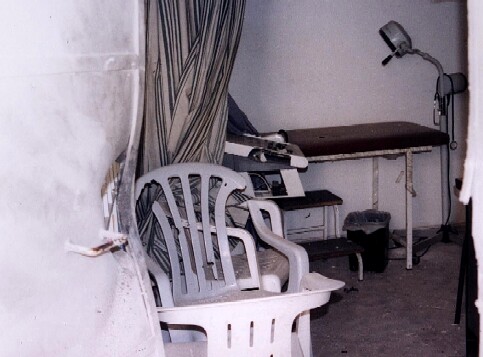 During the recent Israeli invasion of Nablus on August 23, a number of shops, homes and public property were destroyed. Israeli forces killed two young Palestinians and a number of others were wounded and arrested. Israeli forces imposed a curfew and restricted movement of people and goods. When the curfew was lifted for three hours, the Health Work Committees (
HWC
) witnessed the amount of destruction that was left behind. The continuous destruction of the Old City of Nablus is more than sad. The
HWC
clinic in the old City of Nablus was not spared.

The clinic is located in the old city. The building used to be, in the past, an old inn for the travelers. One has to climb narrow stone stairs to reach the horse shoe like designed first floor which looks upon the busy old city. The Health Work Committees started the work there in 1988 and since then the clinic has been rendering its services to more than 50000 people of the old city. The clinic has been renovated several times as the old building is in need of continuous repair. The last renovation took place two years ago through the help of the Spanish government. Last year, part of the building collapsed under the shelling of the Israeli tanks. We were able to rebuild the fallen part.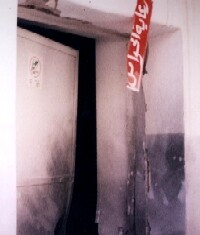 Now the clinic was raided at night when it was closed. All doors of the clinic on the west side were blown up causing an extensive damage to the rooms as well as to the machines. Dr. Abdel Nasser Daragmeh,
HWC
's director of the North region visited the site immediately after the curfew was lifted for few hours. This is his report:
Seven rooms were almost completely devastated. The following damage was reported: An echocardiography machine, ultrasound, furniture in all rooms, water and electric systems, insulation walls, cell counter (laboratory), microscope, spectrophotometer, windows, dental clinic, entrance, railing, and roof and false ceiling.
The damage is so extensive, it will take weeks to repair. The machines are mostly beyond repair. It is needles to say that no one was at the clinic and no shooting was coming from the clinic. And it is not a déjà vu. The bestiality of the Israeli occupation knows no borders and it is repetitious.
We call on all national and international organizations to clearly condemn this barbaric attack on our health institutions. As we know that the Israeli occupation is coming sooner or later to an end we also know that we have to rebuild what the occupation army has devastated. There is no way that we keep the clinic of the old city in Nablus not repaired.