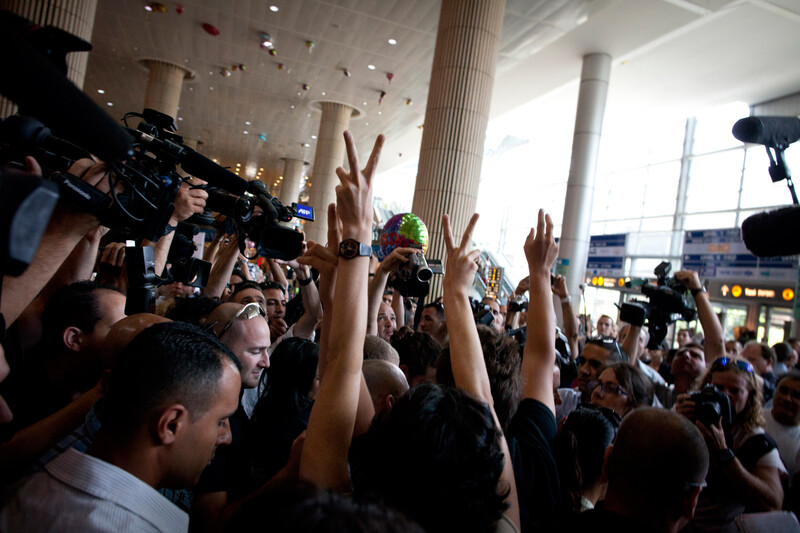 Plans are underway to challenge Israeli apartheid during 2012 by having a large number of international activists land in Tel Aviv's Ben Gurion airport and state openly that they wish to visit Palestine. Scheduled for 15 April, the "Welcome to Palestine 2012" initiative will be the second such attempt to affirm the right of Palestinians living in the occupied West Bank to receive visitors.
In July this year, international airlines collaborated with Israel in preventing black-listed participants to board planes. More than a hundred activists with the Welcome to Palestine "Flytilla" reached the Tel Aviv airport, but they were detained by Israeli forces upon arrival, and subsequently deported.
The Electronic Intifada contributor Adri Nieuwhof recently interviewed Mick Napier, chairman of the Scottish Palestine Solidarity Campaign, and a Welcome to Palestine 2012 organizer in the United Kingdom, about the project. Napier was one of the participants in this year's "Flytilla" who was detained by Israel.
Adri Nieuwhof: Can you clarify how you become involved in Palestine solidarity activism and what drives you?
Mick Napier: Well, I spent years at university opposing the [US] invasion and devastation of Vietnam. I took from that the idea that it is possible to defeat even the greatest crimes. If we organize ourselves and link the people in colonial countries with a principled solidarity movement in the metropolitan countries, we can win.
AN: Can you tell us more about the Welcome to Palestine initiative?
MN: It is a French-Belgian initiative, with a few of us from the UK joining last year. As soon as I heard about it, I knew it would be a serious challenge [to] the fencing off of the Palestinians in the West Bank. In the same way as the [Gaza Freedom] Flotilla has done. With "Welcome to Palestine" we can show people the crimes Israel commits against the Palestinians.
In July, about 500 people were prepared to fly to Tel Aviv, and 125 arrived. We know we wrong-footed the Israelis. We know, if we multiply the numbers, we can challenge Israel and the compliance of our governments. Not just in Gaza, but in the West Bank as well.
AN: You participated in the first Flytilla. How was the reception at Ben Gurion airport in Tel Aviv last July?
MN: The reception in Tel Aviv shows that Israel is a lawless state. Upon not infringing passport control after we said that we want to visit Palestinian friends in Bethlehem, we were frog-marched to a detention center and from there moved to two other prisons. We were assured by Israeli officers that we were guilty of something but not [told] of what. While we were in prison, the Israeli embassy in London issued a statement that we were not held in a prison.
AN: What are the lessons you have learned from the Flytilla?
MN: The Israeli authorities in the days before 8 July became hysterical. [Israeli Prime Minister Benjamin] Netanyahu announced that people who fly to Tel Aviv to go to Bethlehem are a threat to the security of Israel. The Israeli police chief, who is a hooligan himself, called us hooligans who will be dealt with appropriately. We learned we should fly in huge numbers and [that it is important] to liaise with Palestinians and friends in Israel.
The Israelis have constructed enormous prisons for Palestinians. But prisoners have a right to visits. Our countries are in league with Israel. Israel denies the most basic rights to Palestinians. Their response to our initiative was to score an own-goal. The publicity and sympathy we received was quite remarkable.
Small towns adopted people who would go. Israel was portrayed as the problem, not the British citizens. Even quite right-wing communities wondered at the stupidity of Netanyahu and the police minister. The stupidity, the lack of subtlety and the belief they can solve any problem with oppression, it is all in our favor.
AN: With the first Flytilla, airlines received lists with names of people who would be denied entry to Israel, [and the] airlines did not allow them to board the plane. What role will the airlines play in the coming Flytilla?
MN: There are indications that airlines felt manipulated by Israel. European airlines have felt it is costly in terms of money and public relations. There will be demonstrations if we are not permitted on board. There will be a chance they [the airlines] will leave Israel to deal with us. Airlines should refuse to be the auxiliary prison guards for Israel's illegal occupation.
AN: Not everybody can participate in the next Flytilla on 15 April 2012. Do you have suggestions what people who want to support the Palestinians can do?
MN: Everyone can participate. Not just the hundreds of people that will fly. People are needed to explain why it is important to adopt the tactic, to explain why people are going to visit Palestinian friends openly. We need a support system on the ground like the Flotilla to inform the public in case we are detained.
The wider answer to your question is boycott, divestment and sanctions (BDS). We respond to the Palestinian call of boycott of any institution of the Israeli state. So [Israeli airline] El Al is most definitely not an option to fly that day.
Fundamental to what we do is the understanding — shared by Zionists — that Israel has become a toxic brand. The knowledge about Israel's criminal behavior has spread far and wide in every European country. Therefore, when Israel crosses another red line by a massacre on sea, or by not allowing visits to prison for Palestinians, they dig themselves deeper into a hostile public opinion which is the basis of all BDS successes that have been secured until now.
Adri Nieuwhof is a consultant and human rights advocate based in Swizerland.
Related Links
Tags