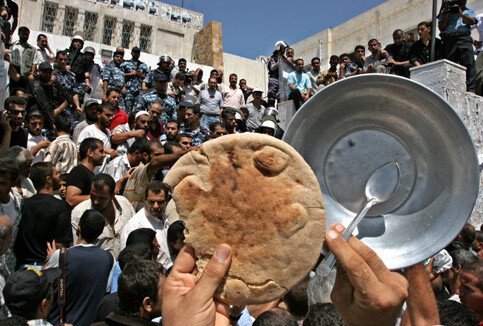 Palestinian parents are huddling on street corners, in cafes and in mosques and talking nervously about the looming crisis in their children's education.
The five month long financial blockade on the Hamas-led Palestinian Authority (PA) is now threatening to shut down the education system.
With an alarmingly high unemployment rate of 40 per cent and most civil servants, including most teachers without paychecks for five months now, few households can afford the expense of sending the students back to school when the summer holidays end.
The imam in the West Bank village of Faqua, Bassam Abu Farha, estimates that 80 per cent of families in his area will struggle to buy the books, the uniforms, and the stationary their children need.
Even though the Palestinian Authority will cut school fees from 50 shekel to 20 shekel (US$11 to US$4.5), it will still be too costly for most families, he says.
"Lots of families will have to choose which children to send to school," a decision that's causing much distress for parents, Abu Farha, says.
"[People] are talking for hours in the mosque, in the streets, on any occasion where people gather," he says.
Even if parents find the money to send their children there's a concern that the teachers, who haven't been paid in five months, won't be able to afford to turn up.
"Some teachers won't be able to continue their life without salaries so they will search for other types of work," Abu Farha says. Abu Farha has managed to scrape enough money together to send his three sons back to school, partly because the three boys, aged eight, 14 and 16 found work during the summer.
He can even afford to pay the bus fare to send his ambitious eldest son, Salman who wants to be an electrical engineer, to the scientific high school in the city of Jenin, some 15 kilometres away.
But up to three of Salman's friends may be forced to stay at the generalist, arts high school in the village, dashing their dreams of going to university next year.
It's a devastating blow for Palestinians who have long relied on education to build better futures.
Education ministry officials say that even if a majority of students go back to school the cost to Palestinian society will be high. "If 1000 children don't go to school for a year, that's 1000 years of education lost," one education official said.
This is but one consequence of the burgeoning educational crisis.
Parents, education officials and aid workers are deeply worried about the fate of the boys who don't go back and instead drop out.
Their chances of finding a work in an economy that is grinding to a halt are grim.
"Their empty time will be for bad behaviour like fighting each other," Abu Farha says.
Worse still, many fear that with time on their hands, the boys will turn to crime and other violent behaviour like fighting soldiers.
Related Links