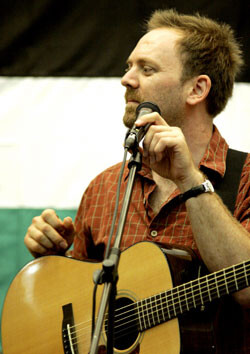 On the 29th of June, 2006, the Balata-London Link Benefit Concert will take place at the Rivoli Ballroom in London, the United Kingdom. The Rivoli Ballroom is a unique venue in South London, that used to be a cinema in earlier times, and hosts 700 seats.
The benefit is organized by John Hamilton, conductor of the Strawberry Thieves Choir, and aims to raise funds to bring a group of children from Balata Refugee Camp over to London, to work with youth groups and create drama and dance together.
As part of the same fundraising effort, an anti-Wall CD is being compiled, which features songs by David Rovics, Velvet Fist, Red Notes, Cor Cochion, Raised Voices, Red & Green , WMA singers and Doc Jazz.
Balata, the largest refugee camp in the West Bank, is situated on the outskirts of Nablus, and is home to over 20,000 Palestinians. For children enduring the hardships of growing up in the dismal conditions of life under Israeli occupation, community arts provide a very important outlet. Through traditional Palestinian dance, dabkeh, drama and music, these youths are able to express their emotions, as well as their resistance.
The revenues of the benefit concert will be used to bring a group of these children to London, and provide them with an opportunity to experience life outside of the camp. As they meet with English youths in drama workshops and shared performances, both are presented with a priceless chance to expand their horizons, by meeting with children who live under such dramatically different conditions.
This unique benefit concert features an impressive variety of musical styles, with performances by artists from the United States, England and the Netherlands. From the United States, David Rovics is known worldwide for his poignant words sung to an accompaniment of folk guitar. Attila the Stockbroker is a social surrealist rebel poet and songwriter, while the hosting artists, the Strawberry Thieves Socialist Choir sing socialist songs, conducted by John Hamilton.
The Palestinian contribution is from two artists residing in the Netherlands. One of them is Tariq Shadid aka Doc Jazz, singer/songwriter and multi-instrumentalist, and founder of the internet project the Musical Intifadah, who writes songs about the Palestinian cause sung in the English language. The other is Zaid Tayem, talented singer and Ud player, who will present original Palestinian music.
Date and Time: Thursday 29 June at 7.30 pm
Location: Rivoli Ballroom,
350 Brockley Road, London SE4 2BY
Tickets: in advance 10 # (unwaged 7 #), at the door 12 # (unwaged 10 #)
For tickets and further information email strawberrythief@btinternet.com or call 07723 015926
Related Links