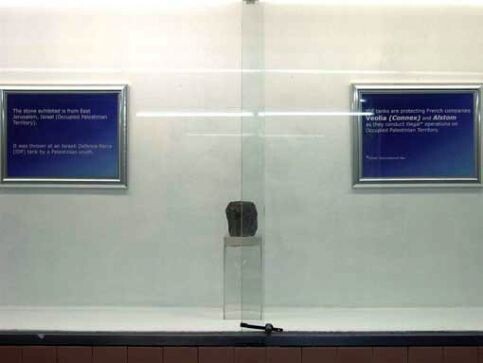 Visual artist Van Thanh Rudd recently created a stir in Melbourne, Australia with his installation "Economy of Movement - A Piece of Palestine." Rudd was invited to exhibit at an art space called the Platform in the group show Resisting Subversion of Subversive Resistance. The Platform is situated directly beneath Melbourne's major Flinders Street train station. Rudd, 35 years old, has won several awards and his work has been shown in Australia since 1993. In 2004, he established an arts movement called The Carriers Project, which involves carrying artwork on foot through public and private spaces of major cities to expose challenging artwork to mass audiences. Although Rudd has declined to talk to the media about his latest artwork, he commented on his installation to The Electronic Intifada.
When asked what inspired him to create "Economy of Movement - A Piece of Palestine," Rudd replied that "As Melbourne's city rail network is operated by Connex [a subsidiary of the French company Veolia], I thought it would be a great opportunity to make artwork that would clearly outline Veolia's illegal operations on occupied Palestinian territory."
He added, "I am a member of the Palestine Solidarity Campaign, and have taken part in many street protests against Israel's occupation of Palestine over the last few years. It is not very often that a public space is available to political art, so I really embraced this opportunity. I was very careful and strategic about how I would make this piece of art.
Rudd decided to make a museum-style piece that displayed upon a glass plinth, a rock from occupied East Jerusalem. A panel hanging behind it reads: "The stone exhibited is from East Jerusalem (Occupied Palestinian Territory). It was thrown at an Israeli Defense Force (IDF) tank by a Palestinian youth." Another panel to the right reads: "IDF tanks are protecting French companies Veolia (Connex) and Alstom as they conduct illegal [under international law] operations on Occupied Palestinian Territory."
Regarding the symbolism and imagery of his work, Rudd explained, "I wanted to show through this symbolism of the stone that there is resistance to oppression felt by many Palestinians and the means they have to do this is very limited. I also wanted to show generally, how poor Palestinian people are due to economic blockades imposed by the state of Israel. It was also very important to me to use the colors blue and white. The information panels … are dominated by the color blue and the text is written in white. I wanted the blue to appear like sky and freedom to humanity, but when white is added it symbolizes the Israeli state flag and oppression. The colors also happen to resemble Connex Melbourne's advertising material."
Immediately after Rudd's artwork was displayed at the Platform, there were complaints by Veolia-owned Connex, the public, and a Jewish group. The artwork was covered up the following day. Connex threatened to sue the Platform, not for the actual content of the artwork, but because the artist supposedly used "their" blue and white colors, and the typeface used in the company's promotional material. However, after receiving legal advice, the Platform decided to unveil the art again at the official launch of the exhibition on 6 March. The City of Melbourne's Protocol on Artworks panel saw no problem to reinstall the art, because the work was consistent with the principle of freedom of speech.
Rudd's next major group exhibition is called NAM BANG! and will be shown in Sydney. He will exhibit along with artists from other countries, including the US, France and Vietnam. Rudd explained that "The exhibition is meant to be about the perspectives of the Vietnam/US war from the second generation — I am half Vietnamese. In this, I will be exhibiting another piece on the Israel occupation, questioning who the terrorists really are and the role the US and the West have in supporting suppression of real democracy."
The controversy surrounding Rudd's exhibited art has been a boost to the Australian Veolia campaign. It has garnered additional attention because Rudd is a nephew of Australian Prime Minister Kevin Rudd. In the coming months Palestine solidarity organizations will demand that state governments in Australia "dump their contracts" with Connex and Veolia, because of the company's involvement in the illegal light rail project in Israeli-occupied East Jerusalem. As for Veolia, the Australian daily newspaper The Age reported that "Connex maintains the East Jerusalem project is legal." However, a growing international compaign is challenging this assertion through lawsuits, divestment and now art.
Adri Nieuwhof is a consultant and human rights advocate based in Switzerland.
Related Links