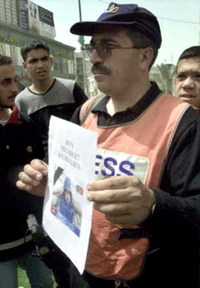 The shooting by soldiers of a journalist filming protests on the West Bank at the weekend provides fresh evidence that the lives of Palestinian media staff are "recklessly being put at risk" by Israeli forces, says the International Federation of Journalists.
The IFJ says that the killing of Nazih Darwazeh, 45, a father of four who was a freelance cameraman and had worked for the Associated Press, was horrifying. "He was wearing brightly coloured clothing, clearly marked 'press'," said the IFJ. "It is impossible to ignore the evidence here of soldiers deliberately targeting journalists."
Darwazeh was one of five Palestinians shot dead in violent clashes in the West Bank and Gaza Strip on Saturday. He died after Israeli soldiers raided Nablus's historic old city, encountering scores of Palestinian youths who began throwing stones. According to witnesses, the cameraman, who was working for Palestinian television, was shot in the face by an Israeli soldier who took deliberate aim. Darwazeh died on the way to hospital.
According to the Israeli army, an armored vehicle got stuck near the old city and a crowd of Palestinians began throwing stones and petrol bombs. Darwazeh was one of a group of Palestinian journalists filming the confrontation when soldiers opened fire.
Television film of the incident showed the cameraman, wearing a bright yellow, sleeveless jacket marked "press", filming youths throwing stones at the Israeli vehicle. He was hit when gunfire erupted from the vehicle, sending the teenagers running for cover.
"This is a shocking incident that demands a full investigation," said Aidan White, General Secretary of the IFJ. "The investigation into this case must be more than the usual military whitewash. The film of the incident shows clearly that the cameraman was doing his job and clearly marked for his own protection."
The IFJ says earlier investigations by the Israeli Defence Force of such incidents have won little respect among journalists. Last year, an Israeli investigation cleared its soldiers of any responsibility for the killing of Italian journalist Raffaele Ciriello, even though he died from Israeli fire.
"This latest incident is another case of journalists' lives recklessly put at risk by an army that ignores its duty to protect media staff and takes no responsibility for the tragic mistakes of its forces," said White.
The IFJ is the world's largest organisation of journalists, representing more than 500,000 journalists in more than 100 countries.
More Information:
For further information, contact the IFJ, International Press Centre, Residence Palace, Block C, 155 Rue de la Loi, B-1040 Brussels, Belgium, tel: +32 748 258 669, +322 235 2200 or +322 235 22 01, fax: +322 235 22 19, e-mail: safety@ifj.org, Internet: www.ifj.org