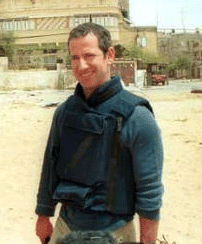 Only hours after a new global campaign was launched by media leaders demanding that attempts to kill journalists should be made a war crime, a freelance journalist was shot dead in controversial circumstances by Israeli forces in Palestine.
Award-winning cameraman James Miller was filming the demolition of houses for a documentary in the Gaza town of Rafah, the scene of earlier disturbances, when he was shot in the neck. Israeli army spokesmen said he was hit as troops fired in defence, but other witnesses say Miller and two colleagues were simultaneously filming and waving a white flag as they walked toward the tank.
"This is devastating news for journalists," said Aidan White, General Secretary of the International Federation of Journalists. "This killing, like other recent deaths in Palestine and Iraq, cries out for a systematic process of independent investigation by respected international authorities.
"There must be an end to military whitewash covering up gross negligence in the chain of military command that leaves journalists dead and injured."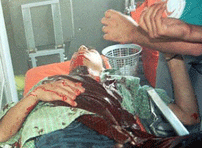 The
IFJ
says the circumstances of Miller's death suggest reckless disregard for life on the part of the Israeli forces. "This killing must be subject to proper independent investigation and not brushed aside with routine expressions of regret."
Miller was internationally respected for his film work. His production Beneath the Veil, about life under the Taliban, won a Royal Television Society award, and his work Innocents Lost, for Channel Four, was an Emmy-winning investigation into human rights abuses against children throughout the world.
The incident came shortly after the launch of the International News Safety Institute in Brussels yesterday.
The Institute is a global coalition of more than 100 news media, journalists and press freedom groups, which is calling for greater protection for journalists and media staff. The meeting in Brussels, which was addressed by journalists' leaders and leading media executives from Reuters, CNN, the BBC, Al-Jazeera and major newspapers, also called for the targeting of journalists and killing of journalists, either deliberately or as a result of gross negligence, to be made official war crimes under international law.
Miller's death brings the total number of journalists and media staff killed this year to 37.
The IFJ represents more than 500,000 journalists in more than 100 countries.
For further information:
IFJ, International Press Center, Residence Palace 155, Rue de la Loi - Bloc C, B-1040 Brussels, Belgium, tel: +322 235 2200, or Aidan White: +322 654 1016, mobile: +32 478 258 669, fax: +322 235 22 19, e-mail: safety@ifj.org, Internet: www.ifj.org