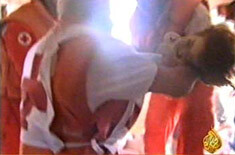 GENEVA
— The International Committee of the Red Cross (
ICRC
) is alarmed by the increasing number of civilian casualties resulting from the ongoing armed conflict.
In today's military operations by the Israel Defense Forces against the village of Qana, a building sheltering civilians was directly hit. At the time of writing, the Lebanese Red Cross Society and the Lebanese Civil Defense have extracted 28 bodies from the rubble, 19 of whom are children.
Issuing advance warning to the civilian population of impending attacks in no way relieves a warring party of its obligations under the rules and principles of international humanitarian law. In particular, the principles of distinction and proportionality must be respected at all times.
Nineteen days after the conflict began, the ICRC observes with great concern the continuous escalation of hostilities and deplores the recurring lack of respect for international humanitarian law by the warring parties.
The ICRC once again urgently calls for a distinction to be drawn at all times between civilians and civilian objects on the one hand, and military objectives on the other. All necessary precautions must be taken to spare civilian life and objects and to ensure that the wounded have access to medical facilities.
Related Links